We had the pleasure of creating bespoke floor standing display units on behalf of Robert Welch. As a family-run company with a passion to create beautiful, functional and timeless products; we were excited to be working alongside them. 
The story of Robert Welch… 
Robert Welch set up his drawing board and camp bed in a little rented room in a disused workshop shortly after leaving the Royal College of Art in 1955. Little did he know, his life was about to change as his design career began to flourish. His effortless drive and his pure talent for design lead to a consistent stream of commissions; both commercial and privately from celebrities and royalty. Now, the Robert Welch company is known for designing and manufacturing timeless designs for the home. 
At Luminati, we are inspired by creatives in the industry. One of our favourite quotes from Robert Welch is: "I opened the shop because I thought the best way to find out what people want is to meet them." We firmly believe that communication with clients is the key to creating successful creative projects. Our sales department and design team liaise with customers to ensure their desires are met every step of the way. We are proud to have worked with a company that has strong design principles and philosophies ingrained into their brand's DNA. 
As experts in retail display systems, Luminati has a large range of standard display solutions available to draw from, these can be customised to suit your brand and product requirements. We can also start from fresh, creating a completely bespoke retail display unit, unique to you. We will work with you through every step of the design process, providing advice from design, marketing, engineering and branding perspectives. 
For Robert Welch, the brief was practical, simple but effortlessly stylish. Our design team created a floor standing display unit that represented the brands' identity to make it visually recognisable for the consumer. The ergonomic cutlery holders are sleek and sophisticated, which is in keeping with Robert Welch's notorious elegance. We also wanted this display to ease the shopping experience for the consumer, allowing them to see the quality of the product up close, and the eye-level shelving aids this goal. The segmented holders allow customers to select multiple products which in turn increase ATV and UPT. The Luminati Design Team have carefully considered these aspects with the aim to increase sales and customer engagement with Robert Welch's products. This unit will help Robert Welch back into the newly opened retail market with a bang! 
Look out for Robert Welch's cutlery lines in stores near you.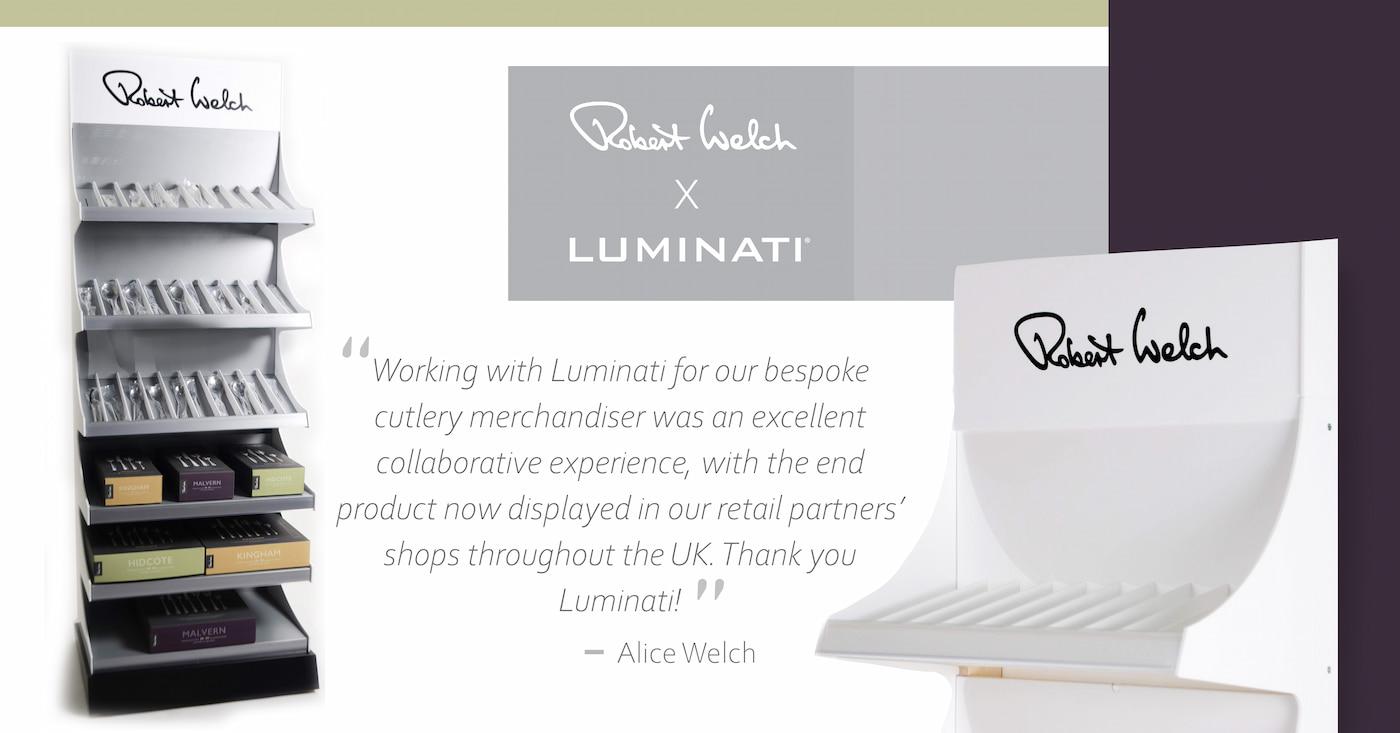 Not only do we work with retailers to create bespoke retail units, but we also work closely with the education, hospitality, DIY, medical sector and many more. If you are on the hunt for creative display solutions, then get in touch with us today.