We were originally contacted by Disney to look into a compact CDU spinner solution for their new product launch, to display a range of Disney Princess Charm Bracelets. They were looking for a countertop retail POS unit that had a small footprint and used minimal space for a selection of product. After discussing their project requirements, our Project Managers identified some ideas and suggestions for Disney which were taken through to design and manufacture to create modest yet effective countertop display unit.
Initially we discussed the Rotating Counter Display acting as a base for the unit. With some minor adjustments from Disney the spinner unit consisted of a rotating counter display stand that allowed for 8 euro hooks to be attached, additionally these single prong hooks could be stored within the centre of the unit,  allowing one hook to be switched with an A6 acrylic pocket to hold sticker books if desired. The spinner construction also included header traps and an acrylic turntable giving the retail display its name, with rubber bump feet to grip the unit to the countertop.
Disney were happy to proceed with the prototype spinner but during the design stage after seeing the proposed technical drawings, there were concerns with the measurements and how far the euro hooks extended from the counter display unit to be able to display sufficient products.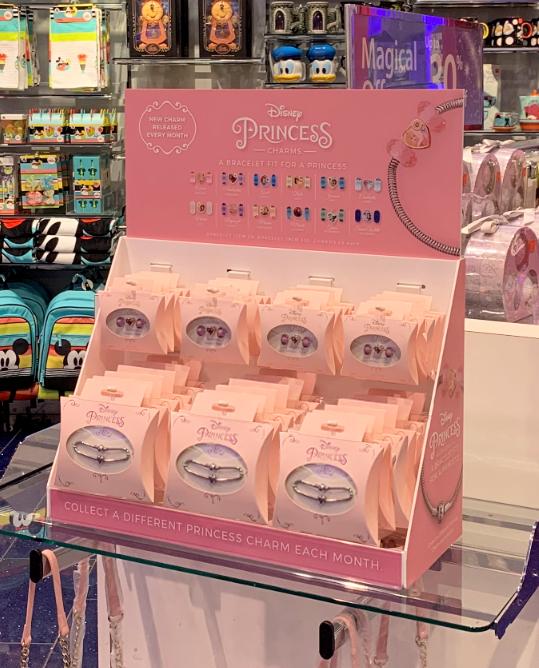 At this point we worked with the client and suggested a different avenue with an altered CDU design that would be able to carry more product yet take up as little space as possible. This took form of a tiered POS counter display unit, measuring 547mm wide by 184mm deep. The CDU was still very compact with seven euro hooks for displaying the Disney Charms, three of the hooks extending to 150mm for holding a larger evergreen product and four 80mm hooks for holding the monthly release product. A removable header card on the display unit also allowed Disney to apply their own graphics and in the future to be easily switched for promotions or seasonal offers. The front of the display unit incorporated a ticket strip which would allow retailers to update prices painlessly.
The final tiered POS display unit was manufactured out of 3mm white acrylic, making it robust, lightweight and cost effective. This was perfect for a countertop retail environment and because of the build quality it would last for a long time.
If you need a retail solution or wish to browse our products you can visit our website, or give our friendly sales team a call on 01752 698720.