Our project with Salcombe Distilling Co. involved a full fit-out of their new retail space. We were brought in to create striking, yet elegant, displays and supporting features to successfully showcase their unique product offering.
The brief
Salcombe Distilling Co. is an award-winning and well-known brand UK-wide, yet its beginnings are humble and distinctly Devonian. Co-founded by sailing instructors Angus and Howard; of the Island Cruising Club where they began their ritual of a gin and tonic at sundown in the 90s, this duo united in 2014 to create the company.
Salcombe Distilling Co. emerged from a common appreciation of gin and a love for the beautiful and bustling port town. Aptly named, Salcombe gin has become a beloved product of the area and beyond, and is a nod to the alluring culture of this trendy and art-inspired spot.
The company has grown rapidly from their primary distillery 'The Boathouse', to launch a gin school, and, most recently, a new retail space called 'The Victuallers' – which is where we came in. With a blank canvas, we were briefed to carry out a full fit-out of the space, which needed to exhibit the brand's stylish product range and provide an accompanying unique customer experience.
Our solution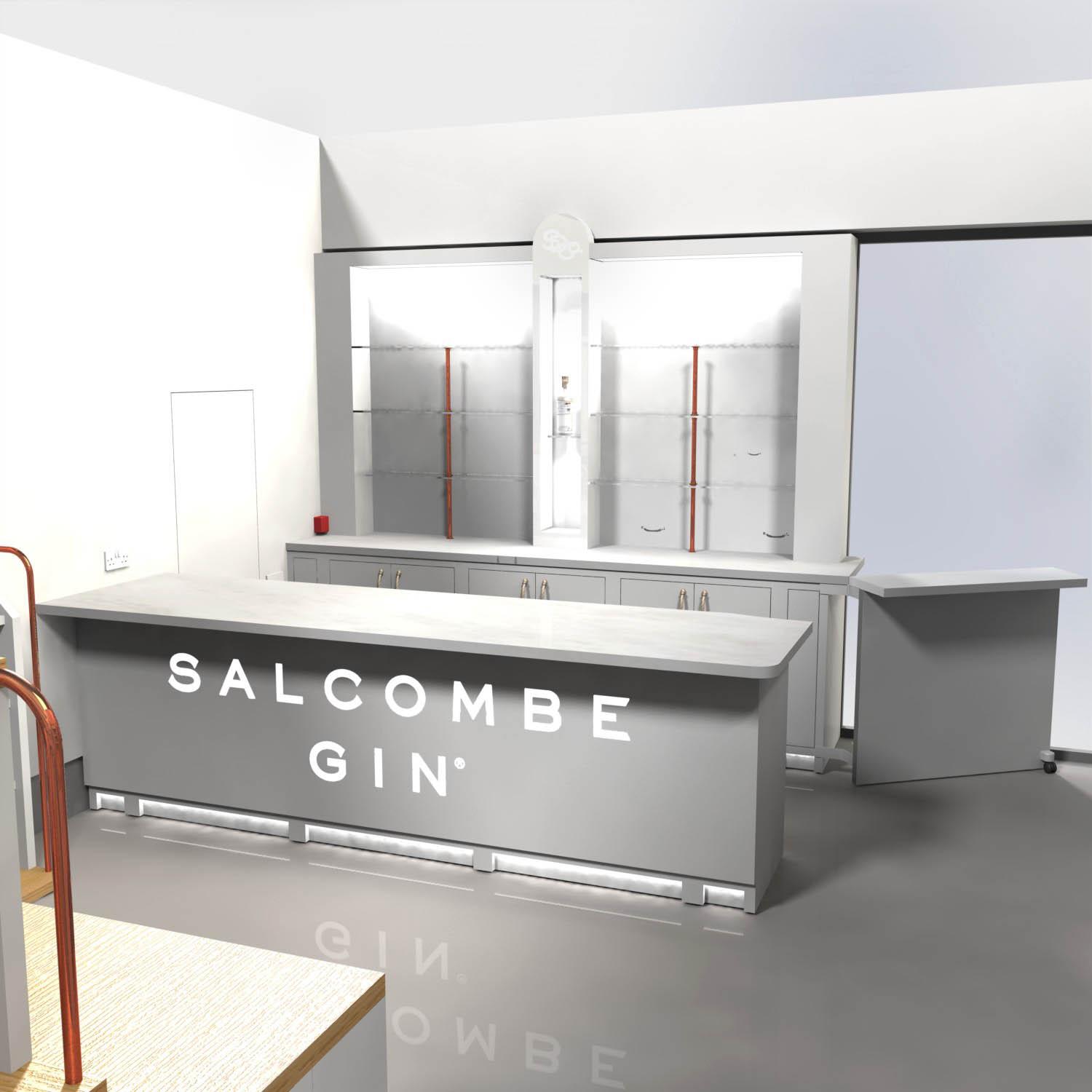 For a fit like this, our approach kicked off with a site visit from our conceptual designer, where we worked with the client to establish a brief, and began sketching design ideas. We then circulated this info back at base with the design team, discussing requirements, timescales, and moving the design onto 3D renders.
Our aim with this project was to create a bold and stylish retail space that embodied the brand's core pillars; heritage, the finest sourcing, and exceptional taste.
To do so, we added statement pieces designed to invite customers on this journey. The initial floor plan included a feature bar, complete with a fully equipped custom back bar unit and illumination, and re-formattable island cubes, which can be displayed in the centre of the shop floor or moved to the side of the room, as well as reassembled for different products. We wanted to create a fully adaptable retail environment that can be easily reshaped for different events and campaigns.
The counter unit was designed to take centre stage and be easily viewed from the entrance, displaying a large graphics panel to draw attention to new and bestselling gins. This custom-built counter every bit exudes style, as well as practicality. We opted for a 30mm solid marble worktop, easily accessible power sockets for illumination, and flush swinging doors with hidden hinges for a more polished finish.
Other additions included custom illuminated graphics and bespoke hanging mounts. These were tactically placed across the shop's large bay windows, allowing plenty of natural light to flood in and maintain its bright and airy feel.
Alongside our bespoke design and manufacture service, we offer a full installation, which was also utilised for this project. Our team of fabrication experts completed the fit-out after necessary electrical and spatial planning was in place.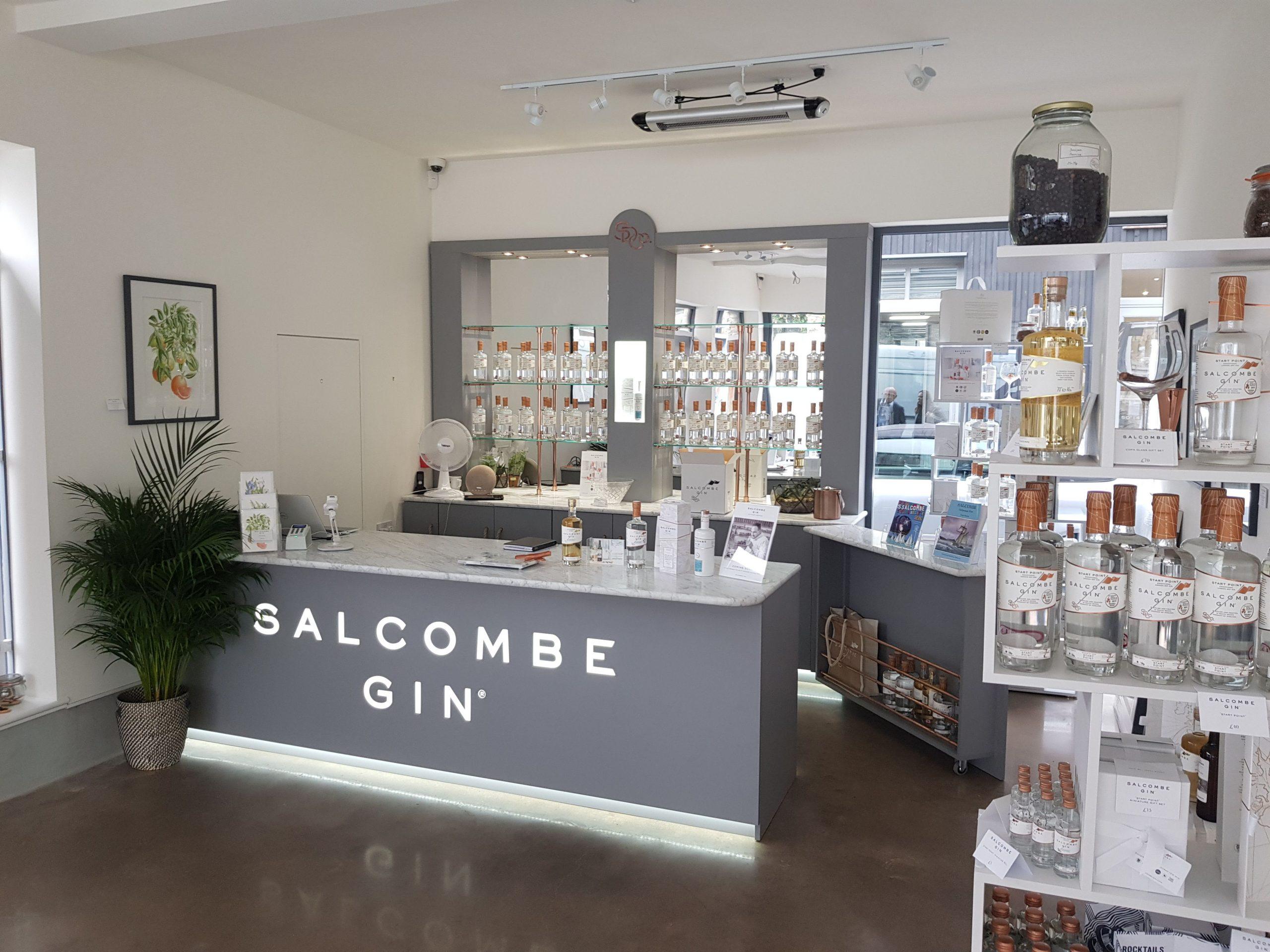 If you have a new retail space that requires a fit-out, we can help. Get in touch with us to discuss your project and what would work best.