The perfect frame will complete a photograph or work of art. At Luminati, we have been specialising in acrylic picture frames for over 20 years, so we know-how, and why, framing a picture, poster, advertisement, or work of art can create the impact you're looking for.
Specialising in the design and manufacture of a huge range of items spanning multiple industries, we work closely with both retailers and interior designers and know our markets inside out. 
Whether you are choosing a frame to go into a busy retail area to promote your latest advertising message, or if you're looking for the perfect certificate display frame for your office, our distinctive range of unique frame designs will meet the brief. 
We're proud of our UK manufacturing heritage and manufacture all our frames from the highest quality materials using modern processes.  Our frames are handmade with quality craftsmanship at the heart of what we do, which guarantees a fantastic product that will outlast cheaper counterparts. 
With our large selection of desktop, countertop,  wall-mounted frames and photo boards – it's sometimes hard to know what frame will meet your requirements, so we have created this guide to ensure you find the right product quickly and highlight some significant products to inspire you. 
In order to navigate easily, our frames are divided into 3 main categories:-
With a top-of-the-range print facility situated in our head office, we can offer a complete solution by printing and inserting your images into your display frames before shipping.  
At the bottom of this blog, you will find a reference to all the standard sizing of artwork and photography. It is important to note that some of our frames come in sizing that is in popular demand, our Display Design Service can facilitate custom sizing if you require it.
This collection contains a vast array of premium frames to hold a range of photographs, food menus or any other promotional print information. Featuring magnetic photo frames, freestanding frames and photo blocks, they're perfect for many different uses from retail promotions to cafe menu displays and everything in between!. As with all our frames, it only takes a matter of seconds to change and update images, making them great for use on many different promotions and by no means a single-use item. 
If you're looking for standard picture frames or branding blocks this category is for you. Boasting a huge variety of Desk and Tabletop Frames that come in many different sizes, styles and designs there is sure to be a frame that fits what you're looking for. All of our frames come in standard print and photo sizes including A4, A5 and A6. 
With the magnetic photo frames we make it as straightforward as possible to insert and switch out the print with premium magnets that are durable and small, simply just pull apart the separate sides and sandwich the print in between them. 
One of the most popular products in this category is the Acrylic Magnetic Photo Frame, designed to be larger than the print size so that the image is surrounded by a crystal clear acrylic border that subtly emphasises the image in place making it stand out more. The frame can be used in either portrait or landscape and because of the all-acrylic construction, two images can be placed back to back meaning the frame can be used as double-sided if required. Additionally, the acrylic frame comes in a choice of thicknesses to allow you to pick a frame based on your budget. 
Wall Mounted Frames
All our perspex picture frames are extremely popular for use in schools and businesses to display awards and certifications. They are also popular in salons and retail settings for use as advertising displays, directional signage and to promote events.  Their wall-mounting ability and the fact that they can be fixed in line of sight make them great for presenting important information to visitors, employees or customers.
For poster frames, multi-photo frames, wall photo frames or outdoor frames this category is your best choice. Featuring a wide range of wall-mounted options perfect for holding photos, posters and notices at home or work. Our Wall Mounted Frames are available in all popular print and photo sizes including but not limited to A6, A5, A4 and A3. 
Our wall mounting frames come with modern wall mounts included in the price in a brushed silver finish.  Made from metal, these mounts fix your frame to the wall securely, setting it 25mm away from the wall for a beautiful, floating effect.  
The sign supports come in 3 parts, making them quick and easy to mount to the wall, and also allowing quick image updating. The standoffs are supplied as standard in a silver finish, but are also available in black, rose gold and standard gold. 
Here's a handy fitting guide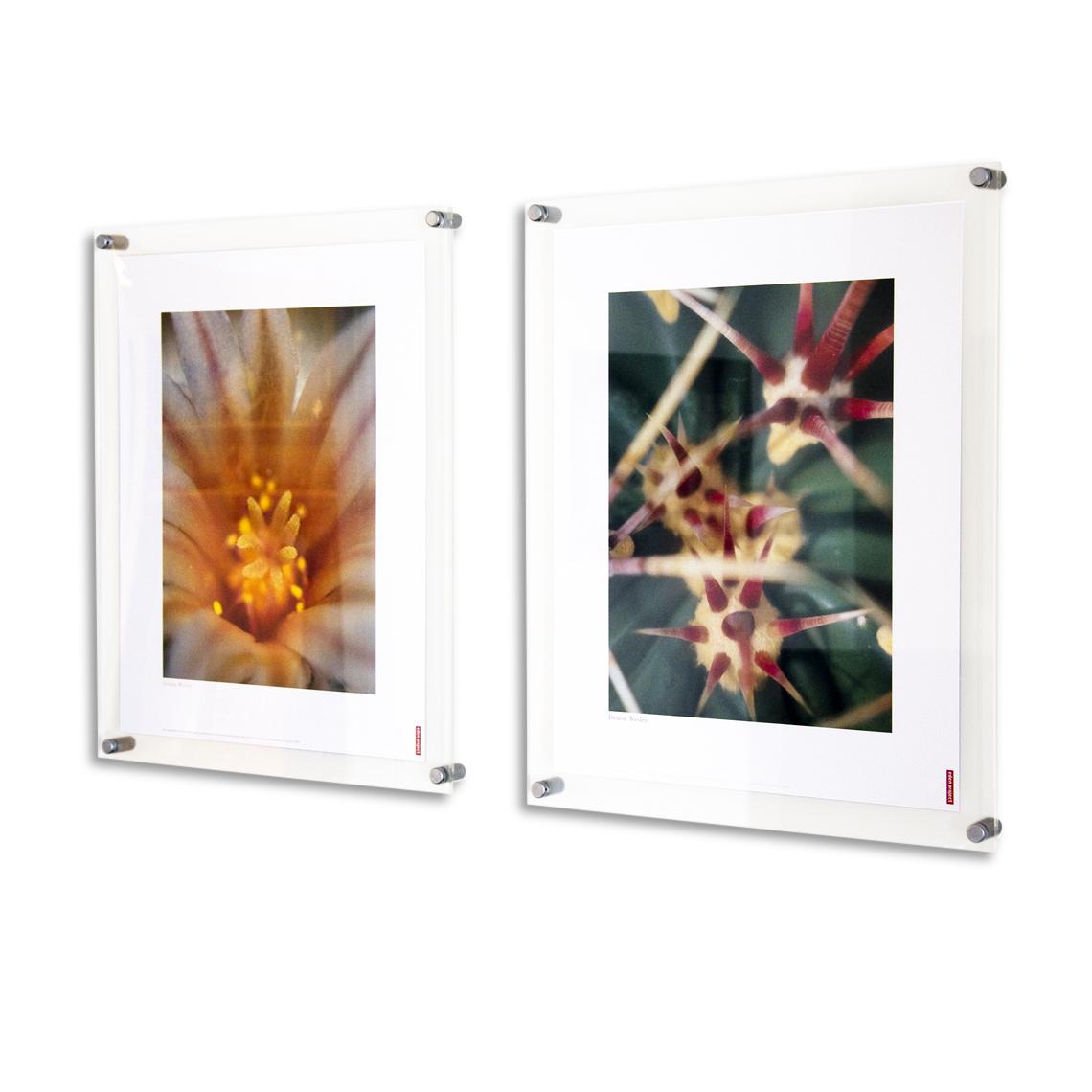 One of the most popular products in this category is the Wall mounted Acrylic Photo Frames, available in a plethora of common print dimensions and more specialist sizes also as standard. The poster kits create stunning information displays or photo frames and when you need to switch out graphics the process is as simple as loosening the mounts and replacing the print inside. This makes these frames the perfect choice for highly competitive retail environments as they can keep up with the changing promotions and trends. 
If you're looking for a custom-size frame, then our made-to-measure photo frames are perfect – simply put the sizes you require onto the page and the price will automatically calculate for you!
Photo boards 
We have a wide range of staff boards, wallboards, poster display boards and multi-picture frames available in our Photo Boards category. We've covered this category in a lot of depth in a previous blog so if this is your area of interest, it's worth checking our previous guide for further details.  
Extremely popular in schools, offices, leisure clubs and hotels these display boards are perfect for showing off your team of staff, showing who is on shift, and displaying awards and notices. They are manufactured in many different sizes and shapes to ensure you find the right board that fits.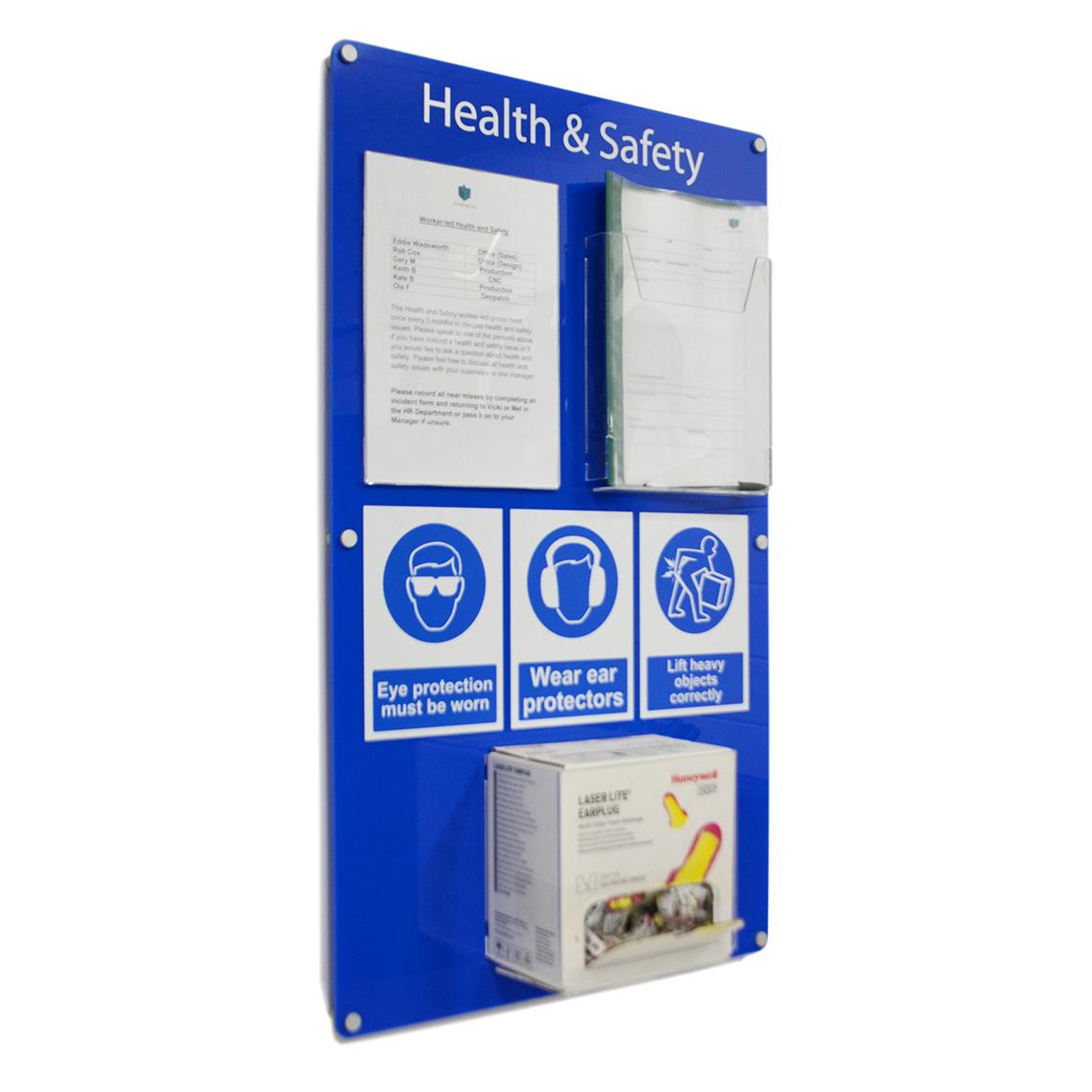 A product worth mentioning in this category is the Health and Safety Wall Board, designed to be used in work environments such as; workshops, factories and warehouses. With an eye-catching blue panel, it is sure to grab the attention of any worker and is the perfect way to display a range of health and safety information. With its larger pockets, you can easily store smaller safety equipment like earplugs, goggles and hairnets so that they are more readily available to those who need them. 
Sizing & Design
If you haven't seen a product that fits your requirements don't forget to check out our website for our full frames range. Don't forget about our Display Design Service which with our printing service allows you to customise any standard product, adjust sizing and add high-quality print including logos and company names. 
If you have any queries or questions about any of the products or services mentioned in this guide don't hesitate to get in touch with our helpful sales team on 01752 698720.
Here's a handy conversion chart that covers a huge range of picture sizes! 
UK Standard Metric "A" picture frame sizes

"A" – Size 
Millimetres (mm)
Centimetres (cm)
Inches
A0

841 x 1189 mm

84.1 x 118.9 cm

33.1″ x 46.8″ 

A1

594 x 841 mm 

9.4 x 84.1 cm

23.4″ x 33.1"

A2

420 x 594 mm   

42.0 x 59.4 cm

16.5″ x 23.4″

A3

297 x 420 mm

29.7 x 42.0 cm

11.7″ x 16.5″

A4

210 x 297 mm

21.0 x 29.7 cm

8.3″ x 11.7″

A5

148 x 210 mm

14.8 x 21.0 cm

5.8″ x 8.3″

A6

105 x 148 mm

10.5 x 14.8 cm

4.1″ x 5.8″

A7

74 x 105 mm

7.4 x 10.5 cm

2.9″ x 4.1″

A8

52 x 74 mm

5.2 x 7.4 cm

2.0″ x 2.9″

A9

37 x 52 mm

3.7 x 5.2 cm

1.5″ x 2.0″
Standard Metric centimetre "CM" picture frame sizes

Centimetres (cm)
Millimetres (mm)
Inches

10 x 15 cm

100 x 150 mm

4.13″ x 5.91″

13 x 18 cm

130 x 180 mm

5.12″ x 7.09″

15 x 20 cm

150 x 200 mm

5.91″ x 7.87″

16 x 16 cm

160 x 160 mm

6.3″ x 6.3″

18 x 24 cm

180 x 240 mm

7.09″ x 9.45″

20 x 20 cm

200 x 200 mm

7.87″ x 7.87″

20 x 25 cm

200 x 250 mm

7.87″ x 9.84″

24 x 30 cm

240 x 300 mm

9.45″ x 11.81″

25 x 30 cm

250 x 300 mm

9.84″ x 11.81″

28 x 35 cm

280 x 350 mm

11.02″ x 13.78″

30 x 30 cm

300 x 300 mm

11.81″ x 11.81″

30 x 40 cm

300 x 400 mm

11.81″ x 15.75″

35 x 100 cm

350 x 1000 mm

13.78″ x 39.37″

40 x 40 cm

400 x 400 mm

15.75″ x 15.75″

40 x 50 cm

400 x 500 mm

15.75″ x 19.69″

40 x 60 cm

400 x 600 mm

15.75″ x 23.62″

45 x 60 cm

450 x 600 mm

17.72″ x 23.62″

50 x 50 cm

500 x 500 mm

19.69″ x 19.69″

50 x 60 cm

500 x 600 mm

19.69″ x 23.62″

50 x 70 cm

500 x 700 mm

19.69″ x 27.56″

50 x 100 cm

500 x 1000 mm

19.69″ x 39.37″

60 x 80 cm

600 x 800 mm

23.62″ x 31.5″

61 x 91.5 cm

610 x 915 mm

24.02″ x 36.02″

70 x 70 cm

700 x 700 mm

27.56″ x 27.56″

70 x 100 cm

70 x 1000 mm

27.56″ x 39.37"
Standard Imperial "Inch" Picture Frame sizes

Inches
Centimetres (cm)
Millimetres (mm)

4 x 4 inch

10.16 x 15.24 cm

101.6 x 101.6 mm

4 x 6 inch

10.16 x 15.24 cm

101.6 x 152.4 mm

5 x 5 inch 

12.7 x 12.7 cm 

127 x 127 mm

5 x 7 inch 

12.7 x 17.78 cm

127 x 177.8 mm

6 x 6 inch

15.24 x 15.24 cm

152.4 x 152.4 mm

6 x 8 inch 

15.24 x 20.32 cm

152.4 x 203.2 mm

8 x 8 inch

20.32 x 20.32 cm

203.2 x 203.2 mm

8 x 10 inch 

20.32 x 25.4 cm

203.2 x 254 mm

10 x 10 inch

25.4 x 25.4 cm

254 x 254 mm

10 x 12 inch

25.4 x 30.48 cm

254 x 304.8 mm

11 x 14 inch

27.94 x 35.56 cm

279.4 x 355.6 mm

12 x 12 inch 

20.48 x 30.48 cm

304.8 x 304.8 mm

12 x 16 inch

30.48 x 40.64 cm

304.8 x 406.4 mm

14 x 14 inch

35.56 x 35.56 cm

355.6 x 355.6 mm

16 x 16 inch

40.64 x 40.64 cm 

406.4 x 406.4 mm

16 x 20 inch

40.64 x 50.8 cm

406.4 x 508 mm

16 x 24 inch

40.64 x 60.96 cm

406.4 x 609.6 mm

18 x 24 inch

45.72 x 60.96 cm

457.2 x 609.6 mm

20 x 20 inch

50.8 x 50.8 cm

508 x 508 mm

20 x 24 inch

50.8 x 60.96 cm

508 x 609.6 mm

20 x 28 inch

50.8 x 71.12 cm

508 x 711.2 mm

20 x 30 inch

50.8 x 76.2 cm

508 x 762 mm

24 x 32 inch 

60.96 x 81.28 cm

609.6 x 812.8 mm

24 x 36 inch

60.96 x 91.44 cm

609.6 x 914.4 mm

24 x 40 inch

60.96 x 101.6 cm

609.6 x 1016 mm

27 x 40 inch

68.58 x 101.6 cm

685.8 x 1016 mm

28 x 28 inch

71.12 x 71.12 cm

711.2 x 711.2 mm

28 x 40 inch

71.12 x 101.6 cm

711.2 x 1016 mm

30 x 40 inch

76.2 x 101.6 cm

762 x 1016 mm