Being one of the leading manufacturers in our industry, we work on some incredibly impressive displays, from full store fit-outs to large free-standing display systems.  With this in mind though, we can't forget some of the smaller products we design and manufacture like our frames, which also happen to be some of our most popular products! 
With such a large selection of frames available, it's sometimes hard to know what frame will suit your requirements so we have created this handy buying guide to direct you through our categories to make sure you find what you want quickly, and highlight significant products to inspire you.  
In order to navigate easily, our frames are divided into various main categories:-
Desk and Table Top Frames contains a vast collection of premium frames to hold photographs, menus or any print for promotions. Featuring magnetic photo frames, freestanding frames and photo blocks, they're perfect for many different uses from retail promotions to restaurant menu displays.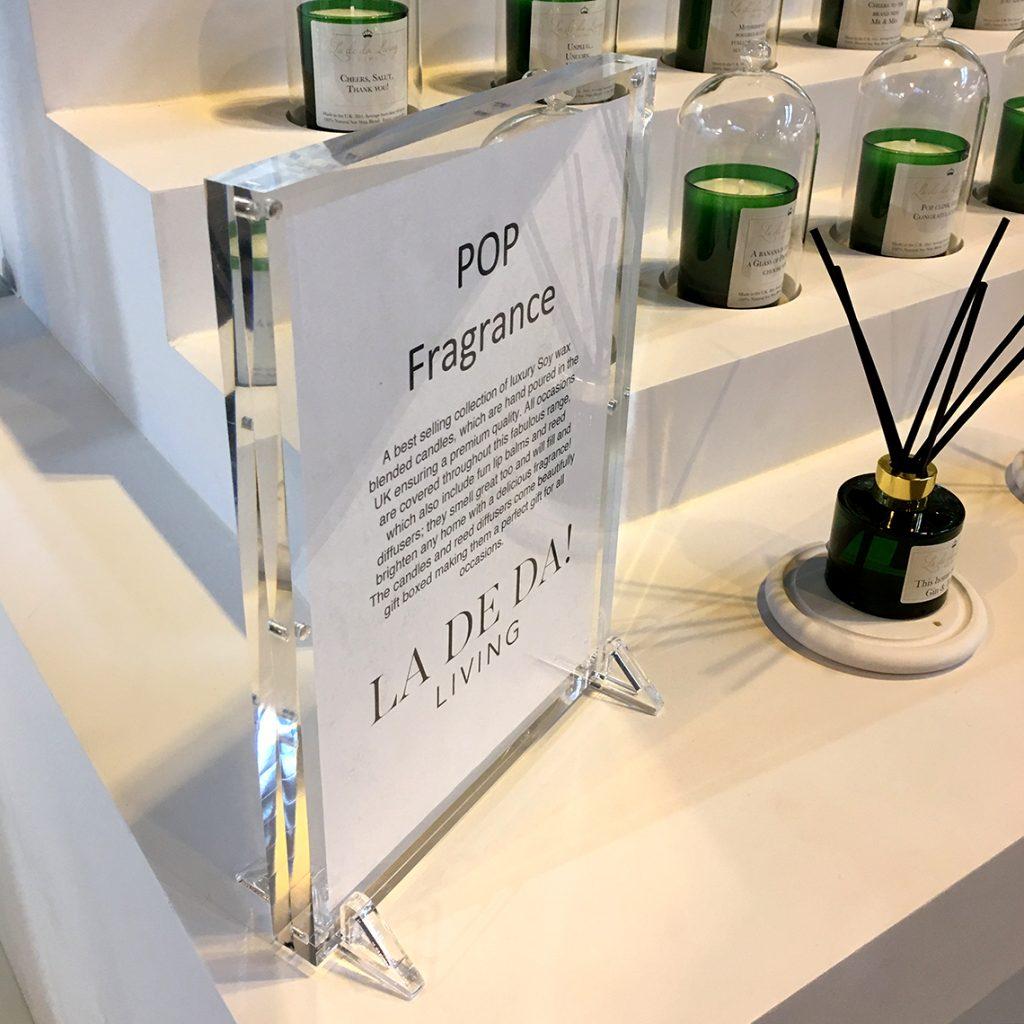 Wall Mounted Frames are extremely popular for use in schools and businesses to display awards and certifications.  They are also popular in salons and retail settings for use as advertising displays, directional signage and to promote events.  Their wall mounting ability and the fact that they can be fixed in line of sight makes them great for presenting important information to visitors, employees or customers.
Photo Boards, as previously covered here, our photo boards include staff boards, wallboards and poster display boards. These multi-picture displays are popular with schools, offices, and hospitals for mostly displaying team pictures, awards and notices. 
Easels and Stands displays are perfect for holding quality prints, artworks and other items and are popular for use in galleries, retail areas and also at home
It's important to mention our display design service which with our printing service allows you to customise any standard product, adjust sizing and add high-quality print including logos and company names. If you don't find a product in this blog that piques your interest take into account that products can be customised or even a fully bespoke solution can be made with our custom design service.  
It's also worth remembering we can print all your photos and place them inside the frames for a complete solution.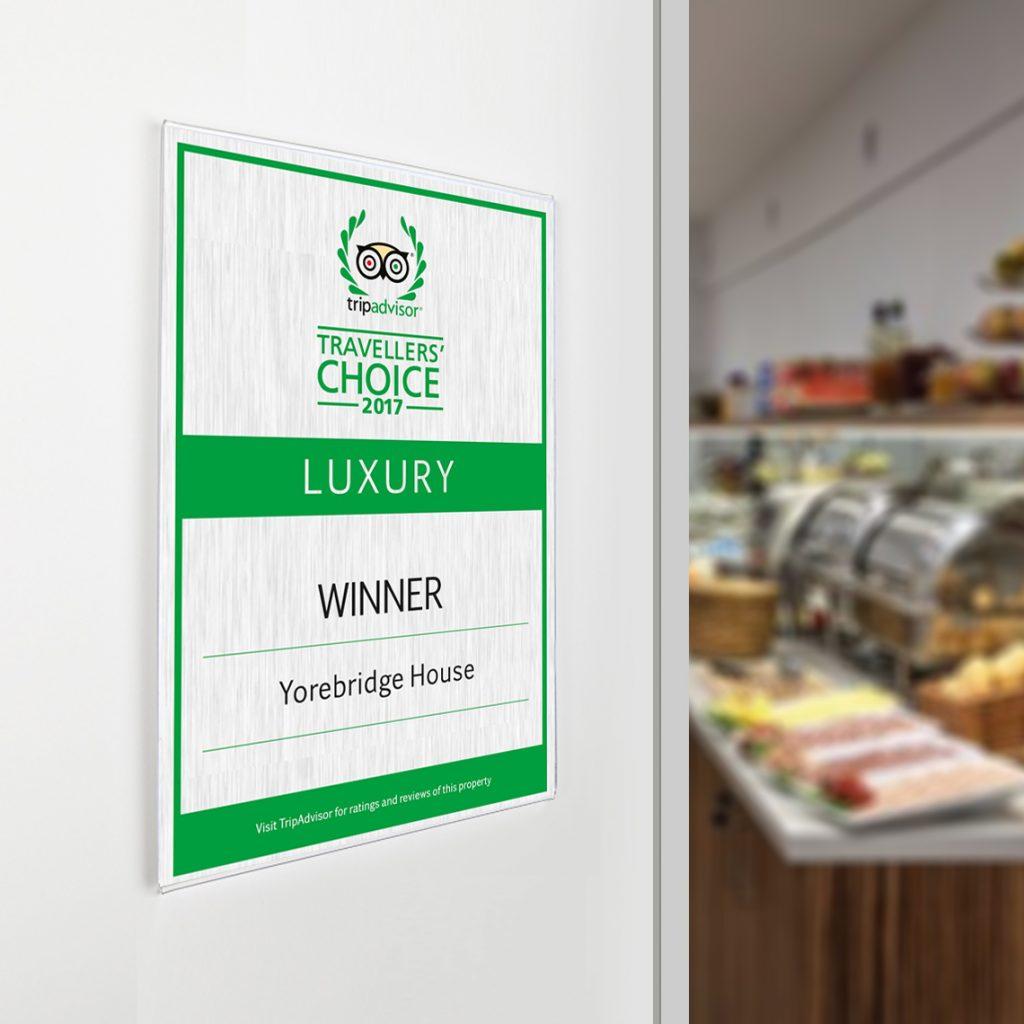 Desktop & Tabletop Frames
If you're looking for standard picture frames or branding blocks this category is for you. Boasting a huge variety of Desk and Tabletop Frames that come in many different shapes, styles and designs there is sure to be a frame that fits what you're looking for. All of our frames come in standard print and photo sizes including A4, A5 and A6. 
With the magnetic photo frames we make it as straightforward as possible to insert and switch out print with premium magnets that are durable and small, simply just pull apart the separate sides and sandwich the print in between them. 
One of the most popular products in this category is the Acrylic Magnetic Photo Frame, designed to be larger than the print size so that the image is surrounded by a crystal clear acrylic border that subtly emphasises the image in place making it stand out more. The frame can be used in either portrait or landscape and because of the all-acrylic construction, two images can be placed back to back meaning the frame can be used as double-sided if required. Additionally, the acrylic frame comes in a choice of thicknesses to allow you to pick a frame based on your budget.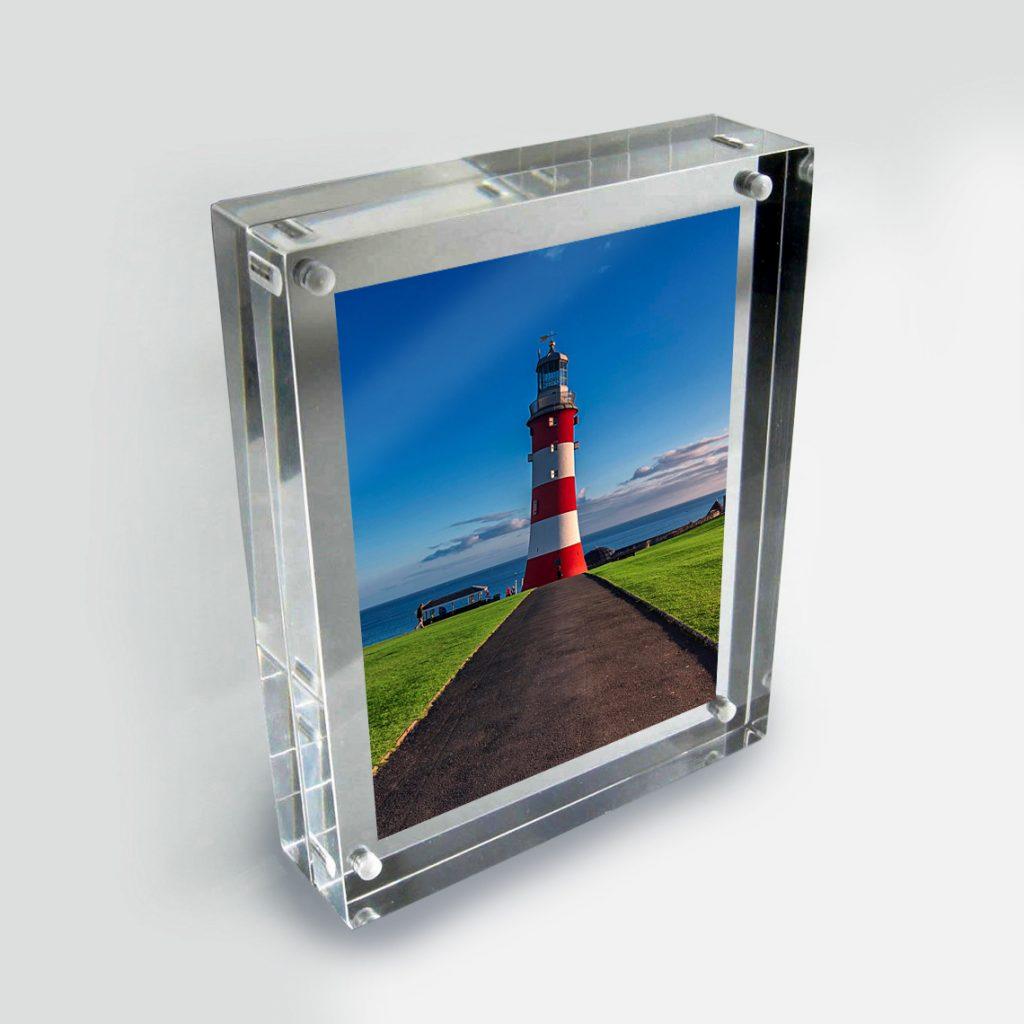 Wall Mounted Frames
For poster frames, multi-photo frames, wall photo frames or outdoor frames this category is your best choice. Featuring a wide range of mainly wall-mounted options perfect for holding photos, posters and notices at home or at work. Our Wall Mounted Frames are available in all popular print and photo sizes including but not limited to A6, A5, A4 and A3. 
Our wall mounting options come with our modern sign standoffs, these tough spacers are suitable to support your panels measuring up to 10mm thick, additionally, these supports come in 3 parts making them easier to mount than most other supports with the detachable hollow ring that is attached to the desired wall and the rest simply screws on. These standoffs come in silver, gold, rose gold and black. Here's a handy fitting guide 
An attractive product in this category is the Wall mounted Acrylic Photo Frames, available in a plethora of common print dimensions and more specialist sizes also as standard. The poster kits make it streamlined to create stunning poster displays or photo frames and when you need to switch out graphics the process is as simple as loosening the mounts and replacing the print inside making this frame perfect for highly competitive retail environments as it can keep up with the changing promotions and trends.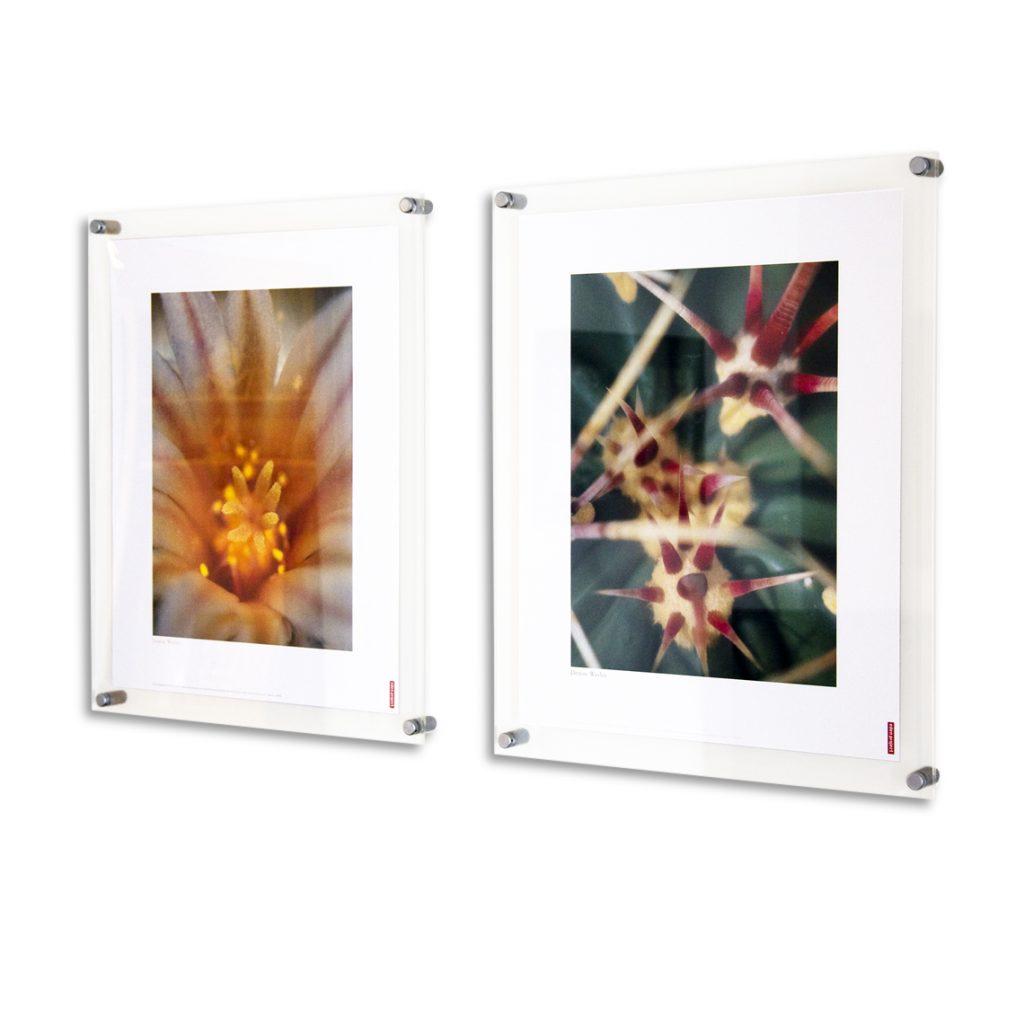 If you're looking for a custom-size frame, then our made-to-measure photo frames are perfect – simply put the sizes you require onto the page and the price will automatically calculate for you!
Photo boards 
Featuring a wide range of staff boards, wallboards, poster display boards and multi-picture frames, the Photo Boards category has a lot to offer so it's worth checking our previous guide for a more in-depth look at our wallboards. 
Extremely popular in schools, offices, leisure clubs and hotels these display boards are perfect for showing off your team or staff, displaying awards and notices. They are manufactured in many different sizes and shapes to ensure you find the right board that fits. 
A product worth mentioning in this category is the Health and Safety Wall Board, designed to be used in work environments such as; workshops, factories and warehouses. With an eye-catching blue panel it is sure to grab the attention of any workers and the perfect way to display a range of health and safety information and with its larger pockets, you can easily store smaller safety equipment like earplugs, goggles and hairnets so that they are more readily available to those who need them. 
Easels & Stands
Last but not least we have our fantastic selection of easels and frames.s. Extremely popular in galleries and art stores to display works of art, Easels & Stands have seen a rise in popularity in retail stores including clothing and cosmetic based shops. They are perfect for holding larger print such as promotions, offers and information and because of their subtle design make sure focus is kept on what is being displayed. 
Alongside this our easels have great compatibility with our picture frames, poster mounts, canvas art displays and wall art designs as they all sit well on our range of stands. Luminati manufacture all of our easels & stands therefore we are able to change sizes, finishes and designs if required. 
The Floorstanding Frame Display Stand is a very attractive product in this category because of it's subtle yet effective acrylic design. With a crystal clear acrylic construction that creates a floating effect for the frame or print on display guaranteeing attention is brought to it. This product can be paired with our printing service to apply company branding to create a fully branded solution.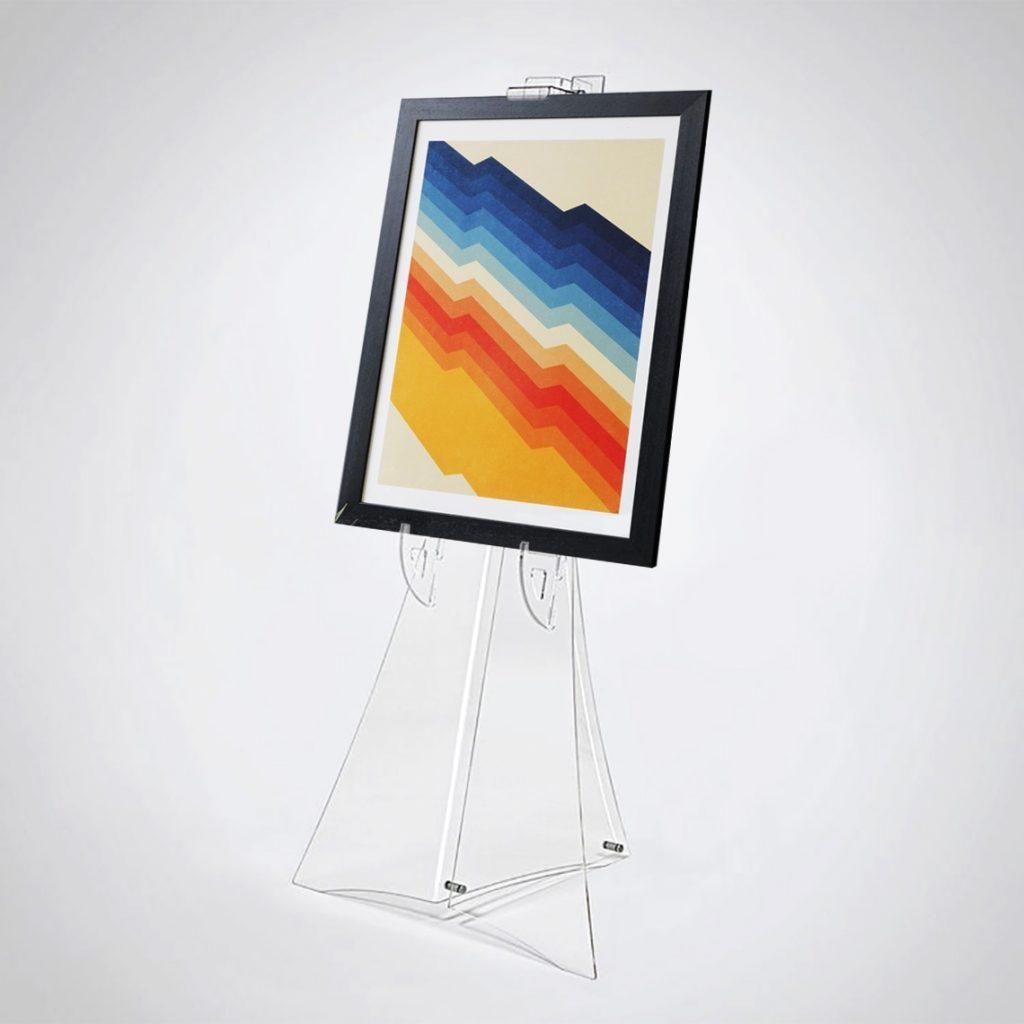 If you haven't seen a product that fills your requirements don't forget to check out our website for our full frames range. As previously mentioned we do also have our dynamic Display Design Service if you cannot find any of our standard products that grab your attention, the design service allows you to have full creative control over your display and ensuring you get a fully bespoke solution. 
If you have any queries or questions about any of the products or services mentioned in this guide don't hesitate to get in touch with our helpful sales team at 01752 698720.