Introduction
At Luminati, we offer a wide selection of standard multi photo frames such as; picture wallboards, staff photo boards, staff hot boards, information displays, notice boards, class photo boards, team picture boards, teacher picture boards, poster displays, and more. Our multi-picture displays are popular with schools, colleges, hospitals, hotels, leisure clubs and corporate companies to display their team pictures, awards and notices. Alongside this, there is almost unlimited potential for how you would like your photo board to look thanks to our design service – almost any size and shape, and our print service which grants us the ability to digitally print in full colour creating opportunities for branding in your own style.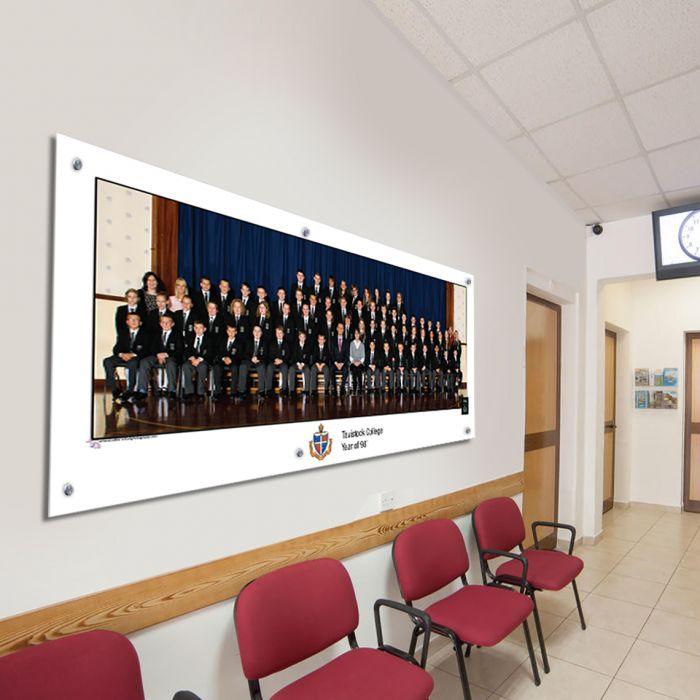 Finding the right photo board
You're probably here because you are in the market for a new photo board, or you want to update your current board. Finding the right display can be difficult but this guide is here to inform you of our range of displays and to guarantee you invest in the right product. The first thing to consider is what you are going to display. This could range from photographs, informational literature, certificates, awards and more. Knowing what you are displaying makes the choice between the main standard product types more straightforward.  For large posters and documents, wall boards are the best solution whereas with staff or team photos, staff boards are the perfect choice.
Wallboards
Showing off your companies achievements and successes is the best way to let customers and visitors know that you're professional and legitimate. The perfect solution would be a notice display wallboard, with larger pockets than a staff board and supporting traditional print sizes. The clear acrylic pockets allow for easy switching of awards, notices and graphics, simply slot your poster into the trap in the acrylic. These wallboards are perfect for high traffic areas such as receptions and waiting rooms. 
A popular wallboard choice is the notice display boards with A4 sized traps for displaying notices, certificates and awards. The wall mounting notice display board comes with either a clear or frosted back panel for a clean looking display area, it has 3 standard sizes to make it incredibly universal for all kinds of displays and environments, these include: 6 x A4 portrait pockets, 9 x A4 portrait pockets and 9 x A4 landscape pockets however custom sizes are available through our display design service along with digital printing of company logos.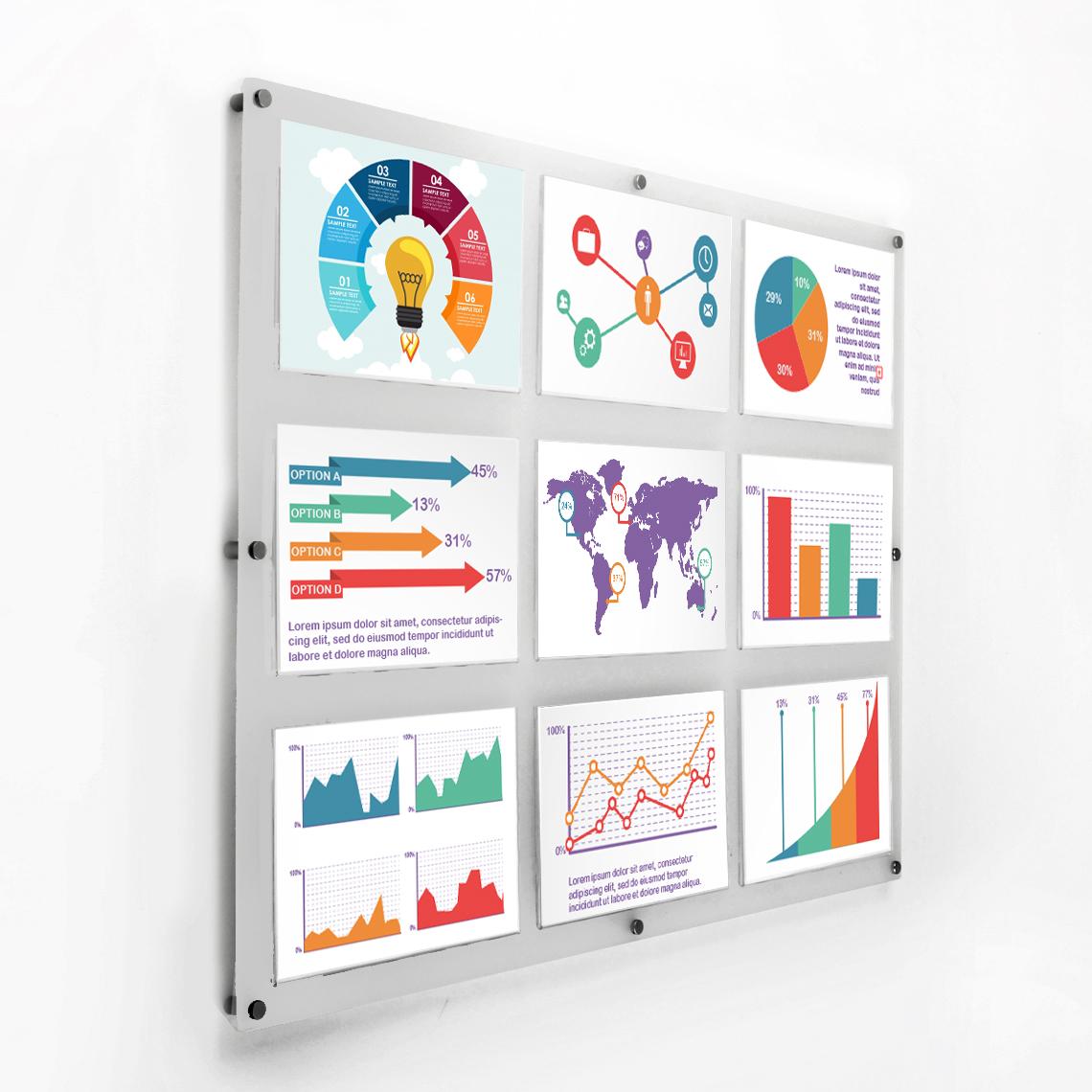 Wallboards also make great information points, displaying corporate information, pamphlets and posters because of their visibility. These larger display boards can feature acrylic dispensers as well as traps and are a perfect versatile solution. Dispensers are bigger than the print traps and allow for handouts and other useful information to be stored and readily available for clients and customers. 
Our stunning wallboard poster displays allow you to show larger-scale print professionally, with wall mounted and floor standing options available. Floor standing photoboards free up wall space and the ability to easily position and display important information or rich graphics to where it is most effective, the small footprint of the freestanding poster displays make them very versatile and can also prove to be effective silent salesman displays and excellent showroom units because of their mobility and the effortless switching of information. The floor-standing units come in an array of different designs and colours. These units can be printed on so branding the unit specifically for your company is straightforward.
Knowing how big you want your photo board or how much space you have to fill for your display board can help streamline finding the right board for you. For example we stock smaller notice boards like the lockable notice board which is a wall mounting notice board which features a dry whiteboard backing that allows for documents or posters to be fixed with magnets or using marker pens to add your own flair to the notice board. This is kept secure from impacts and weather with a silver anodized aluminum frame with silicone rubber gaskets to completely seal the interior. The lockable hinged door at the front ensures that your notices are secure and cannot be tampered with. Remember to always refer to the descriptions on all our products, they will provide you with measurement details to assist in finding the right display.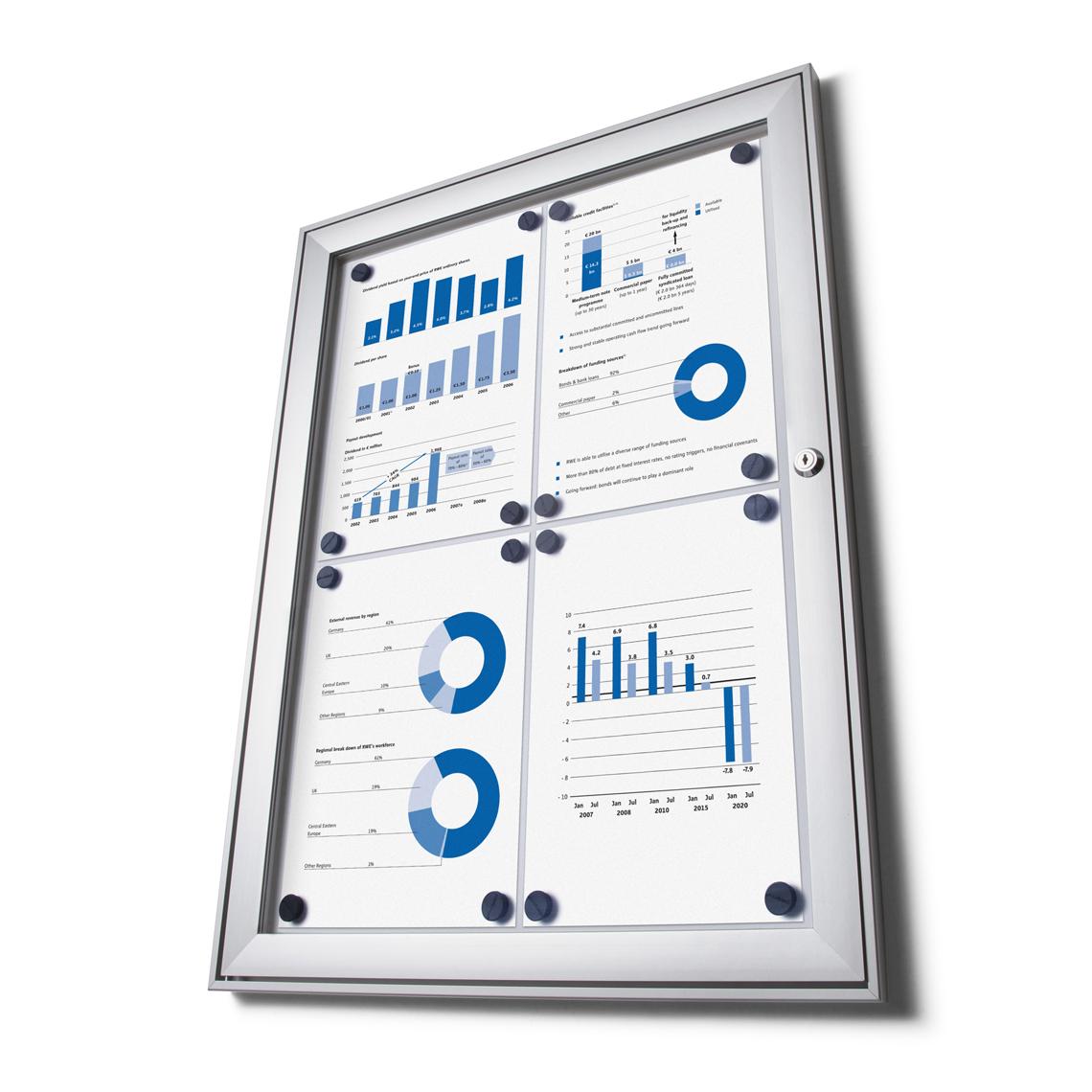 Alongside our wallboards we do offer some different solutions to presenting information. These include acrylic and glass whiteboards which are perfect for meeting rooms, offices and classrooms. By making the whiteboard magnetic it opens up a lot of opportunities for displaying notices, posters and other information. Our box frame offers the best of both, display cases and wall mounting displays, allowing you to display items that are too thick for standard print traps. The 25mm depth on the box frame is perfect for displaying collectables, mementos, embroidery, crafts and more.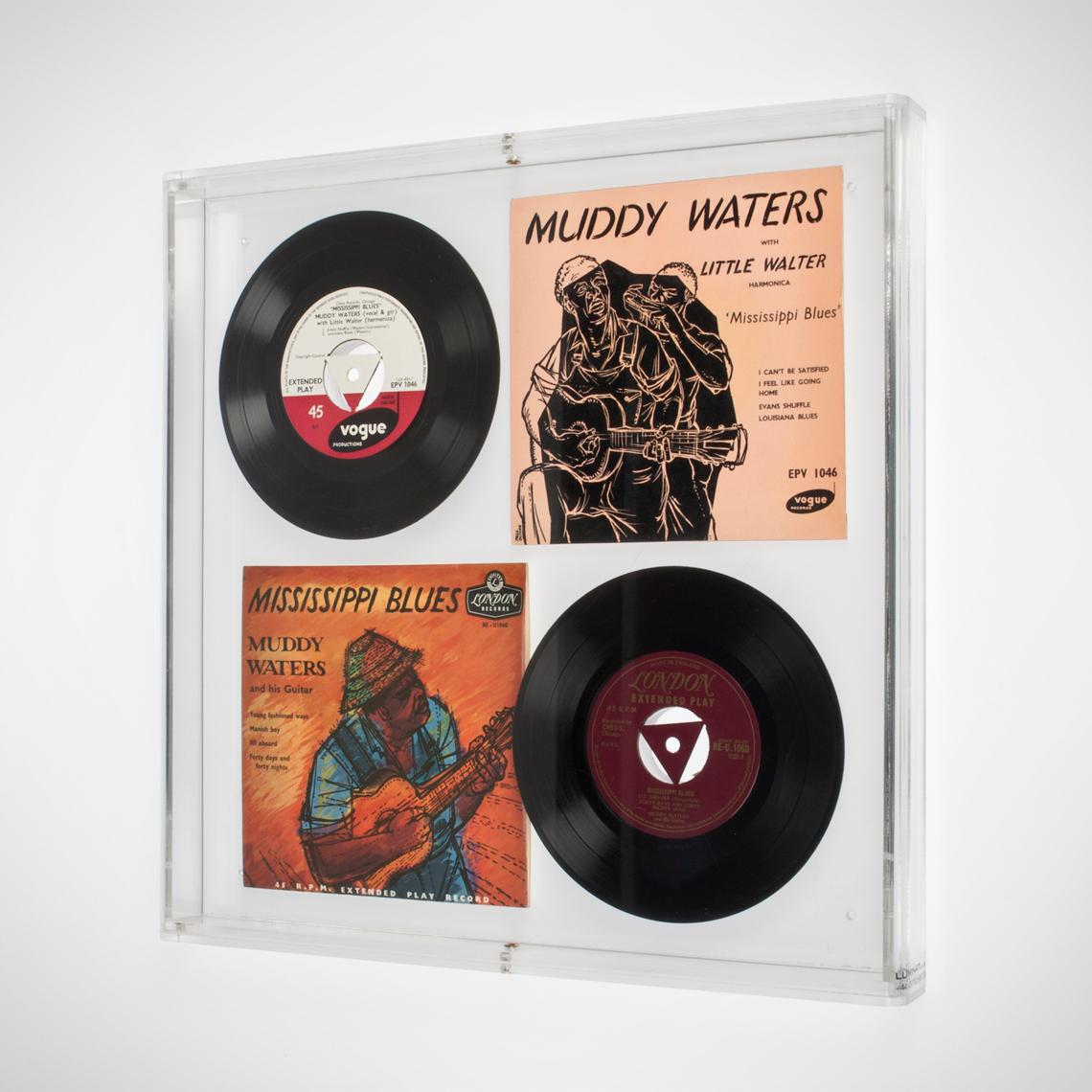 Staffboards
If you are displaying staff photographs or team photos you'll want smaller pockets designed for holding photographs. Our easily adaptable staff boards feature 75 x 55mm acrylic pockets as standard and offer great versatility for displaying photos. The acrylic pockets allow for photos or documents to be painlessly switched out in an instant, handy for when it comes to  updating staff photos. Our staff boards category is the best place to begin your search, multiple designs and layouts are available as standard products. 
With most of our staff boards featuring 75 x 55mm acrylic traps, for those who want to display bigger photos a perfect solution is the A5 staff photo board which has larger print traps than most of our standard staff boards, allowing for larger photos to be displayed. These A5 traps make it quick and simple to switch out photos and information because of their U shaped design, also featured on the board is an acrylic ticket strip at the top which can be used to hold a company name or department names so that visitors and other employees can identify who is working in that particular department. If A5 won't work for you we do manufacture the same board with A6 acrylic pockets instead.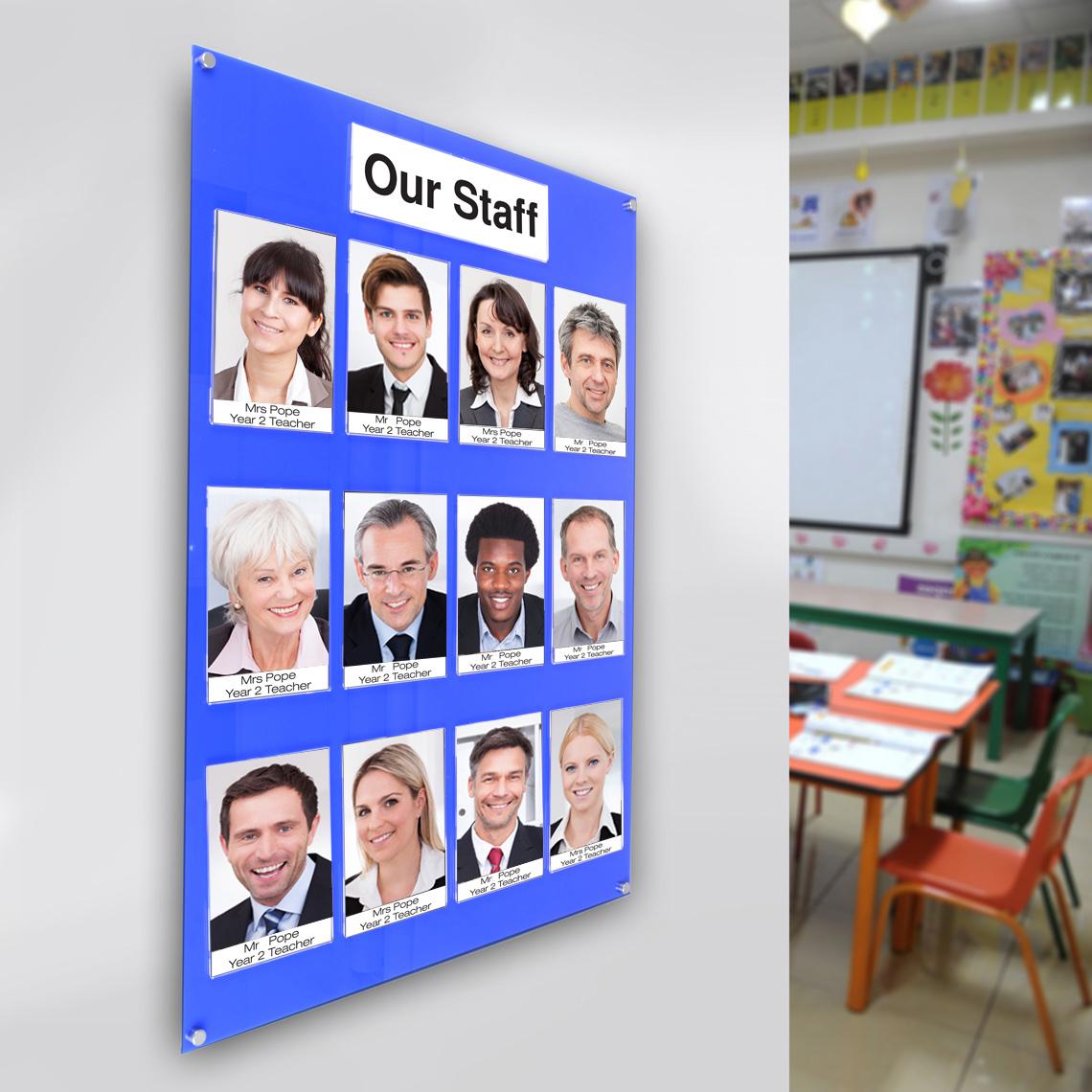 The majority of our photo boards come in clear acrylic or with set colours as standard. For example the staff photo board with a printed logo is available in white, black and blue finishes. Most of our photo boards are generally made with simple but effective clear acrylic however more colours are available through our custom design service allowing you to get a completely professional look on your board.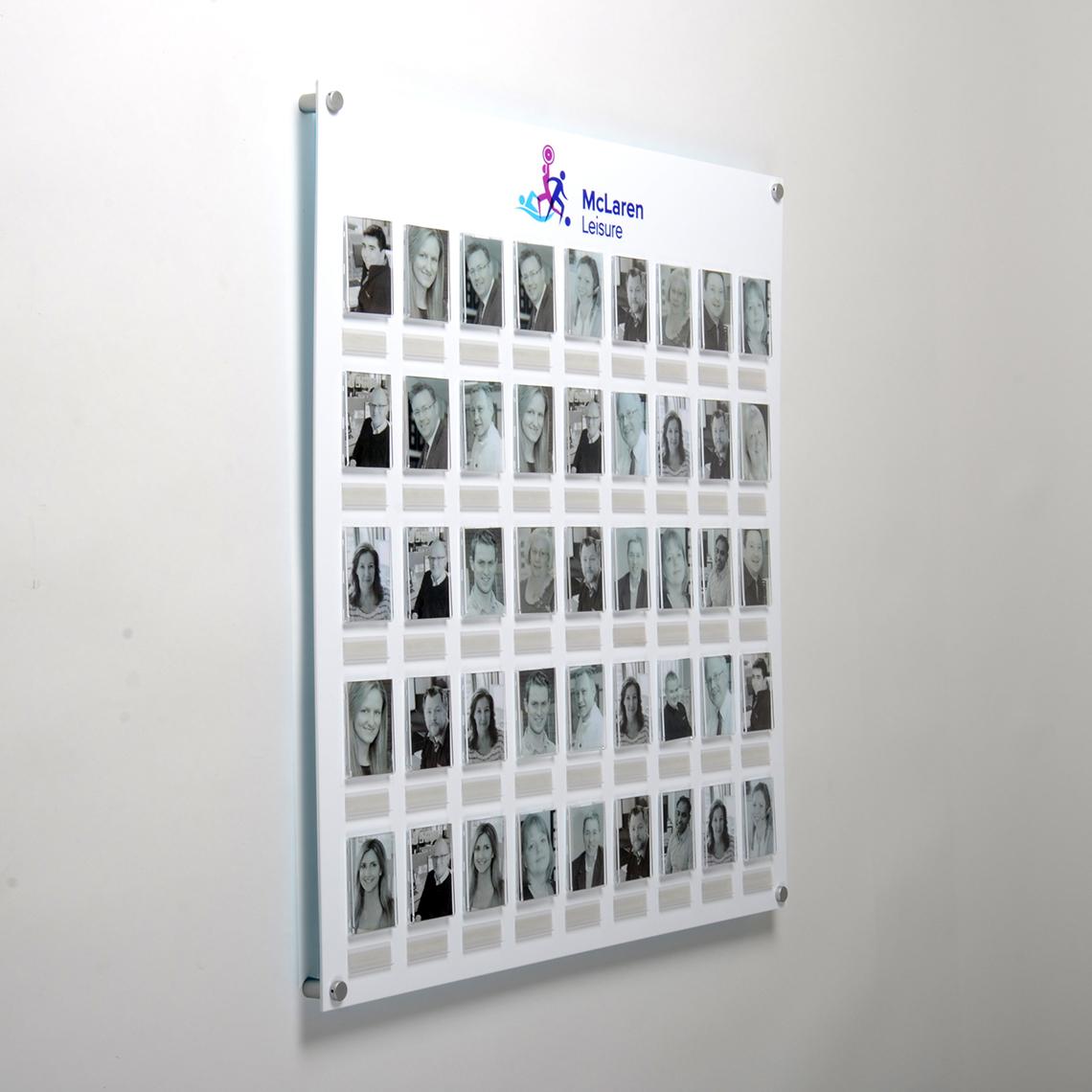 For staff boards, size matters. If you have too much space to work with, our corporate wall boards are designed and manufactured to your exact requirements. They are great for meeting rooms, receptions and corridors because they can display such a huge range of information including staff photos, notices and certificates. Each display board is designed around your requirements, available with full colour digital print so your board can be branded with your company logo for a completely corporate display. 
Extras
If you've opted for an un-printed wall board, we offer wall boards with Title Pockets at either the top or bottom of the board. Made with the same U shaped design as the print traps to ensure that switching information is effortless and is kept visible. These are available for both wallboards and staff boards.
For fixing your new photo wallboard we offer standard satin silver sign standoffs with most of our photo boards range. The standoff comes in 3 parts to make fixing the mounts to wall as easy as possible, the detachable hollow ring is used to position the standoff and when screwed in the panel can be secured using the two remaining parts of the standoff. In addition to the standard satin silver, we also offer standoffs in black, gold and rose gold. If you're needing bigger standoffs, flush mounts or just a different colour finish, with our Display Design Service all these and more can be configured exactly for your needs. 
Keeping your photo board protected from prying hands and tampering is straightforward with our clear security covers. manufactured with crystal clear acrylic means that your photos or documents aren't any less visible. The cover simply sits on top of the board using the standard supplied wall mounts.
Important information
Still needing something bigger? Or smaller? For a display that is completely custom, our Display Design Service gives you the ability to invest in a bespoke display that is entirely unique to you and can be changed to make it the perfect display for your company or organisation.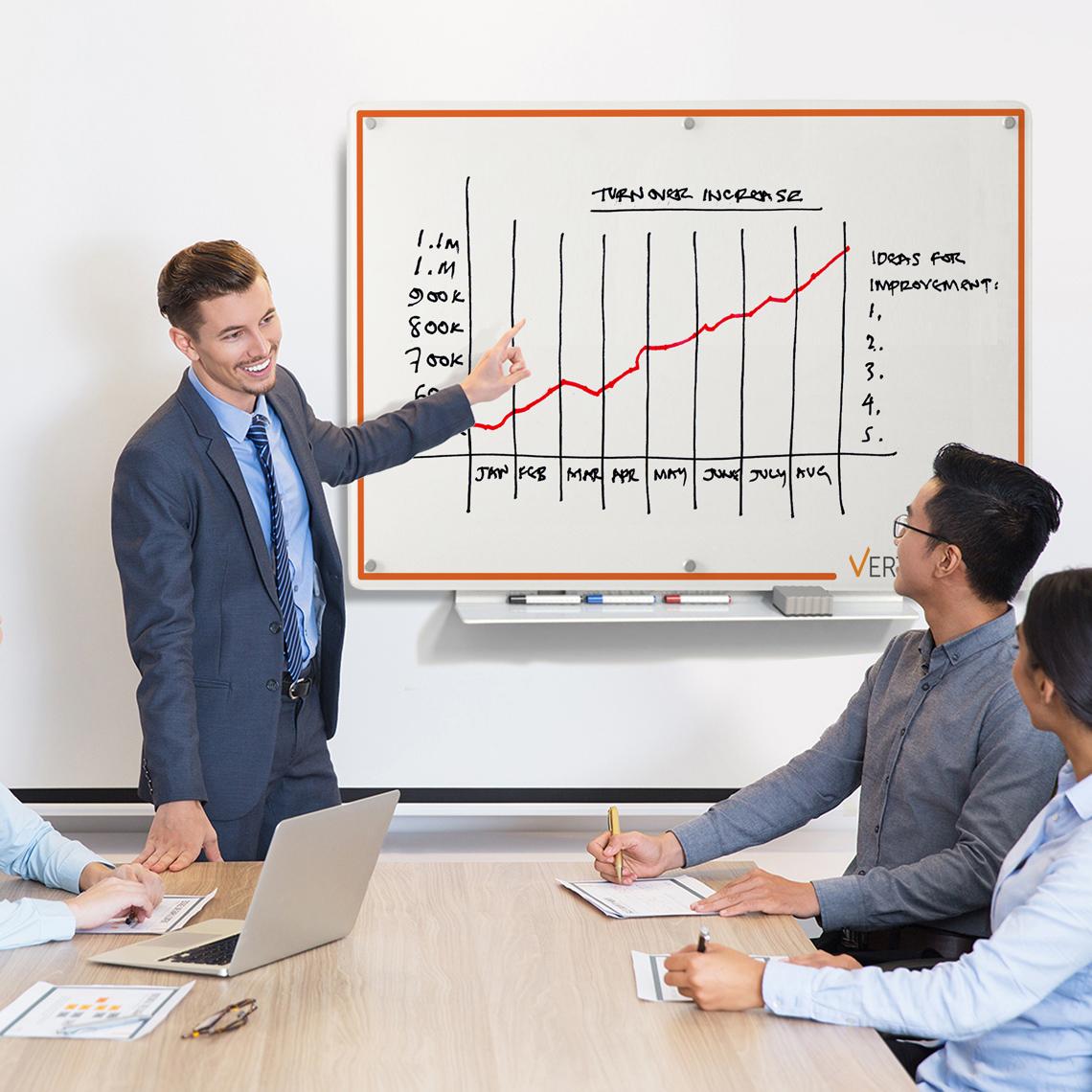 All of our staff boards have their dimensions clearly listed in their description, but if there are any confusion do not hesitate to contact our friendly sales team at 01752 698720
Make your board yours with our full-colour digital printing, submitting artwork for your photo board is straightforward using our print service. Our industry-leading print technology allows for printing on almost all of our extensive range of products means materials including Acrylic, Perspex, Dibond, composite panels and wood. With over 35 years of experience, we have extensive knowledge on digital printing so can ensure your logo or image is printed to the highest quality possible.