Amiosec are a passionate UK technology company who specialise in the design and development of secure solutions for both the government and commercial organisations. Amiosec got in touch with our team to discuss a requirement they had for a bespoke display plinth to be used in the upcoming CYBERUK 2019 exhibition.
CYBERUK 2019 is the authoritative event for the UK's cyber security community hosted by the National Cyber Security Centre (NCSC) it is an opportunity for the whole cyber security community to meet, discuss business needs, review the changing threat landscape and clarify their responsibilities. It features world-class speakers, solutions and opportunities for interaction between the public and private sectors.
We responded to the enquiry with a selection of 3D conceptual renders in a range of styles that suited the brief. With some expert liaising from our project managers we were able to exceed the customer's expectation with the design of their plinth.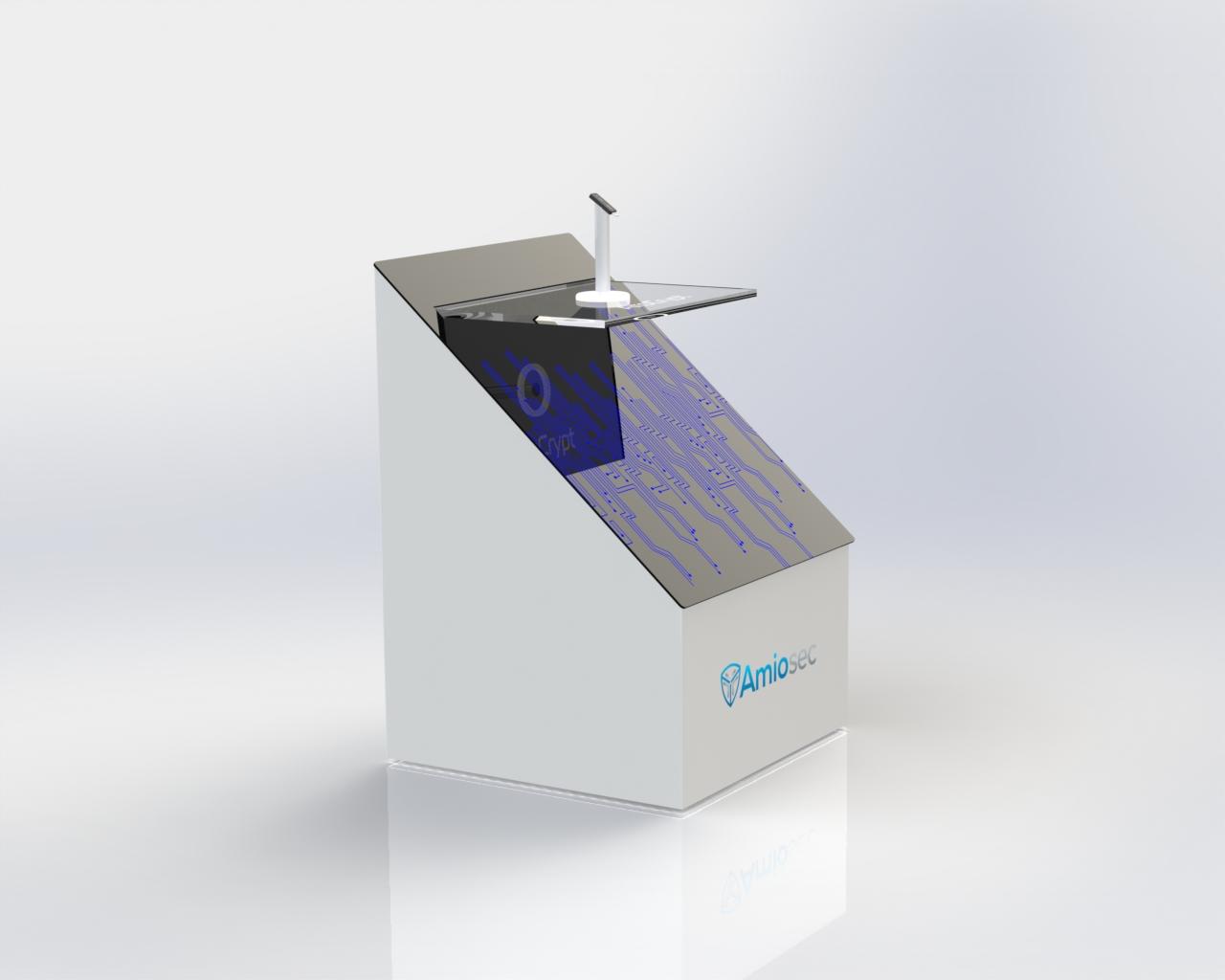 The final product was an incredibly eye catching free standing display plinth, the body was made out of wooden panels for manufacturing consistency and to implement the necessary durability required on the hectic exhibition floor. The front 18mm wooden panel was branded with Amiosec's logo and slogan using high quality digital printing. The rear panel contained flush magnets to hold a removable door panel, making maintenance easy. Stored within was a 3mm white acrylic lighting panel where we fixed the professional blue LEDs to illuminate the top panel.  The top mirrored panel featured a striking digital motherboard design. To give the freestanding display plinth as much of a presence as possible on the exhibition floor we added white LEDs to the underside of the unit, this provided lighting around the base adding ambience to the plinth.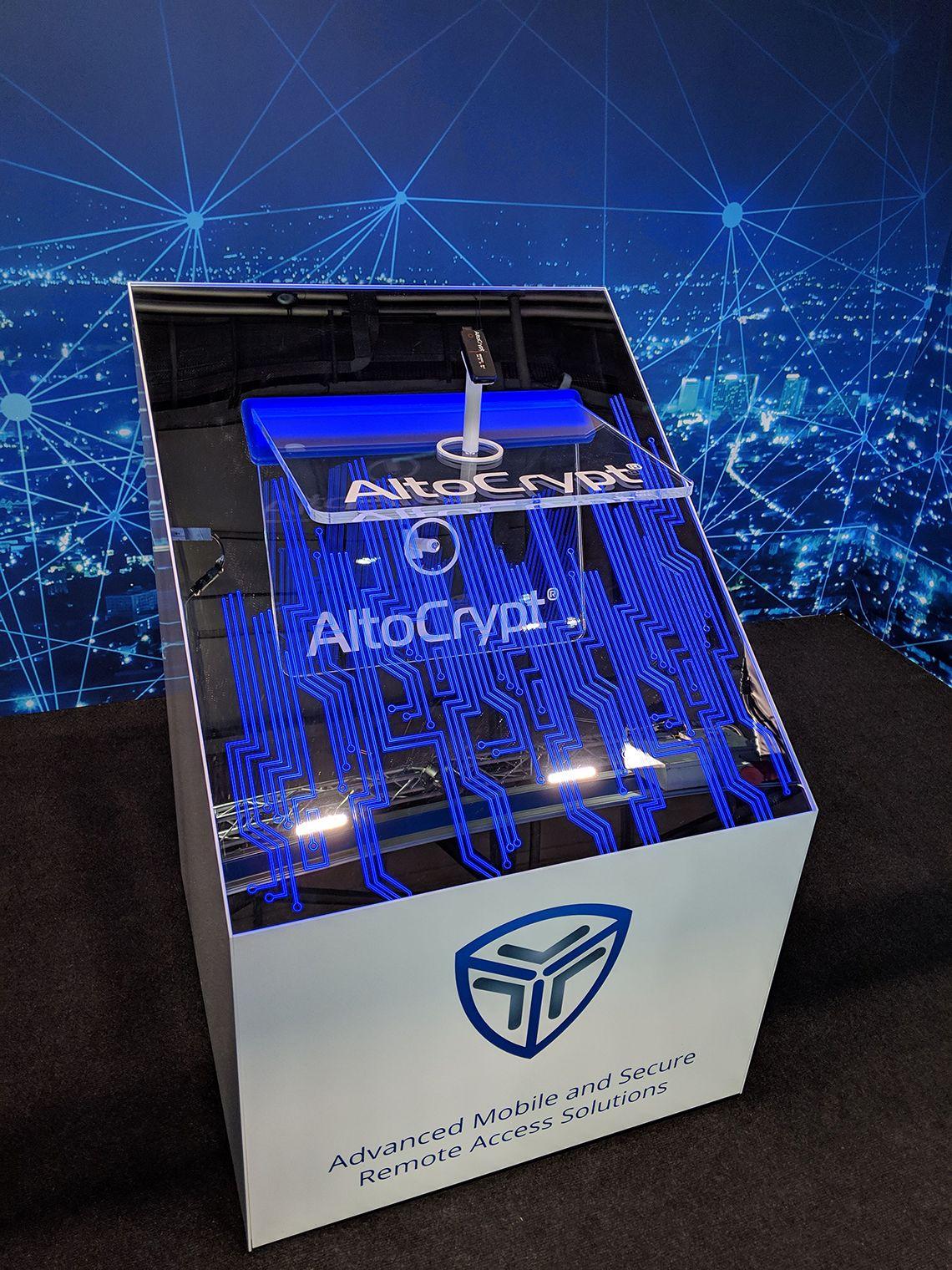 Paired with the display plinth was a white acrylic display table for their exhibition stand. The event display table was designed to match the illuminated display plinth. It was built around a hollow wooden core to let Amiosec safely store cables and power outlets for their interactive displays kept on top. We understand the logistical problems you can encounter when Exhibiting at a show, so as part of the design process we ensured the display table could be easily deconstructed for transportation after the event.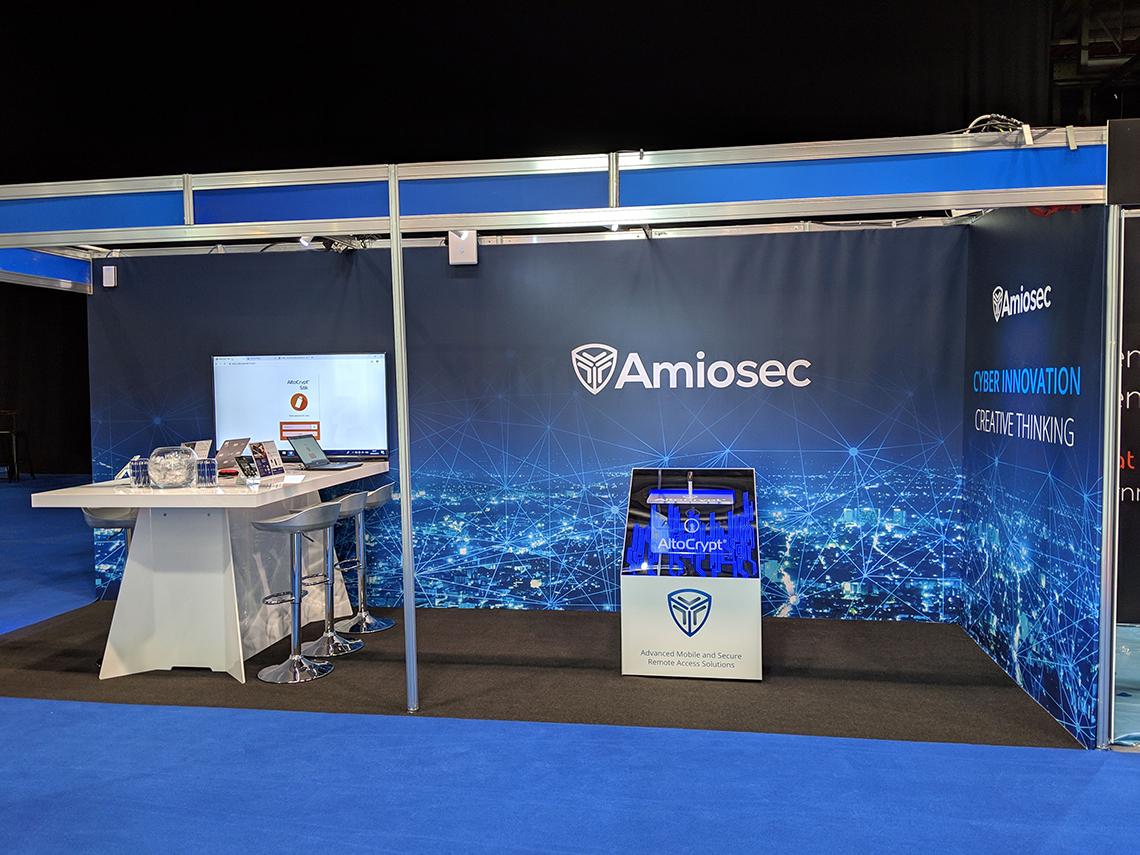 We have received some amazing images from the Amiosec team at CYBERUK 2019 and some very happy clients. If you are looking for an exhibition display plinth or would like to know more about our Display Design Service, get in touch with our helpful sales team on 01752 698720 or visit our website