Shop Different Lectern Options
The most important part of a presentation, lecture or service is guaranteeing that what you say makes an impact on the people listening and ensuring your point is heard. To do this you need to make sure you have the undivided attention of the audience which can be difficult without the right preparation. At Luminati, we believe that one of the most important props you can utilise at a presentation is the lectern you stand behind. This guide will help you find the right lectern and give you help on maximising its potential. 
Luminati offers a wide array of lecterns, pulpits and podiums for a range of different lectures, talks, presentations and sermons. All of our lecterns are sorted into 5 main categories on our website, these include: 
Alongside this we also offer – complete customisation to your lectern so that you can integrate audio-visual technology like microphones, screen prompts and laptop connections. Additionally, you can have a control panel fitted to your lectern giving you additional communication options such as custom ports, HDMI, USB and more.
As with the rest of our range of products we offer a complete design service allowing you full creative control to get the finish of your product just right, whether it's colour matching the lectern to your brand or adding a logo we have the capability onsite. Our design service ties in perfectly with our printing service, powered by a professional large flatbed printer we are able to print onto almost any material.
Before we get into finding the right lectern, it's important to understand how your lectern can complement your presentation with its design. The materials and form of the lectern can help enhance how the audience reacts to your organisation, for example, our angled lectern has a sleek and contemporary design which can help give a professional and more personal impact with its simple lines and minimalist construction. In contrast, our university lectern is received as a more traditional style design with its wooden sides and more standard shape. When picking your lectern it's important to pick a design that is synergistic with your organisation's brand identity.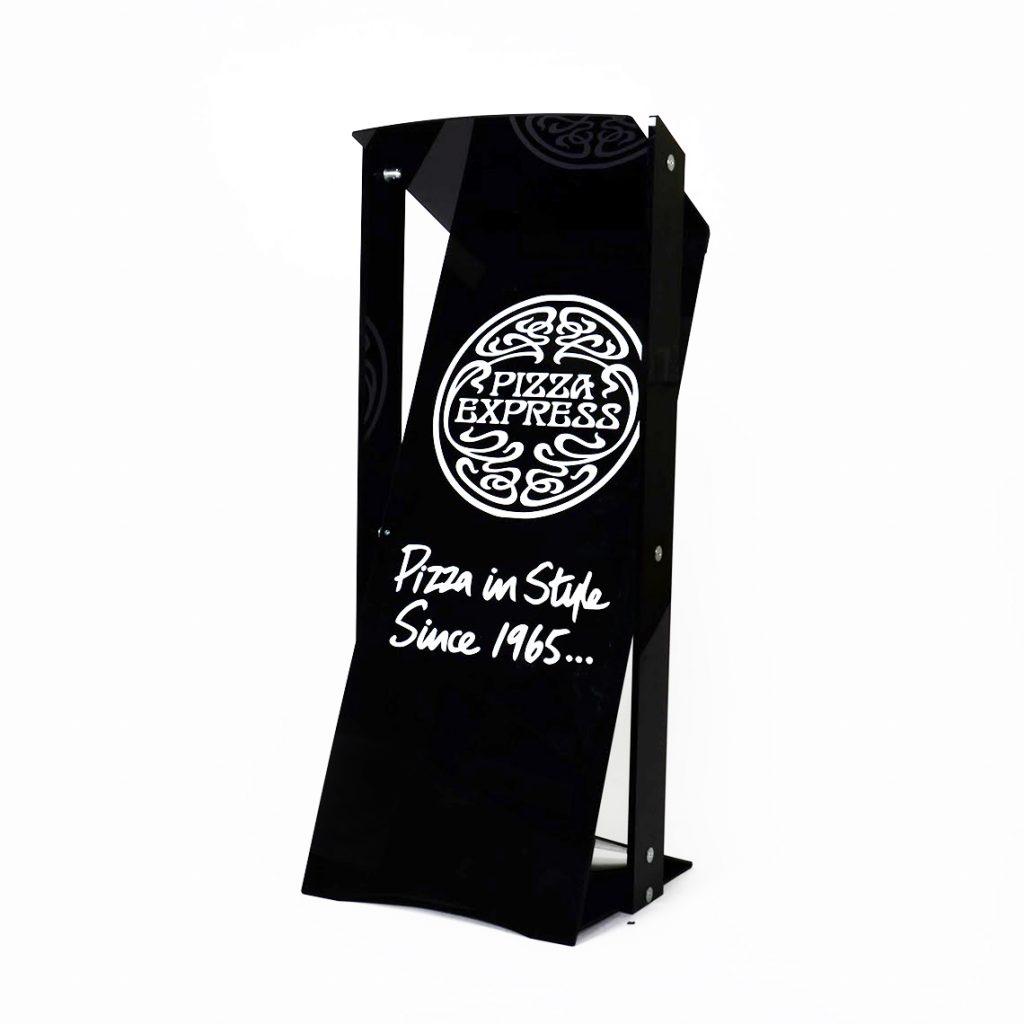 Our modern acrylic lecterns are perfect for exhibitions, presentations, conferences and much more. Featuring a wide range of professional and sleek designs the acrylic lecterns are a great place to start searching when looking for your perfect lectern. The acrylic construction provides plenty of strength and allows for multiple finishes and colours to be applied making the lecterns highly customizable and well worth the investment. One of the most popular products in this range is the sleek and elegant church lectern, made with clear acrylic throughout to make sure that you are visible to your audience and attention is kept on you. This lectern can be supplied printed so adding your company logo or name is straightforward and investing in a corporate branded solution has never been easier.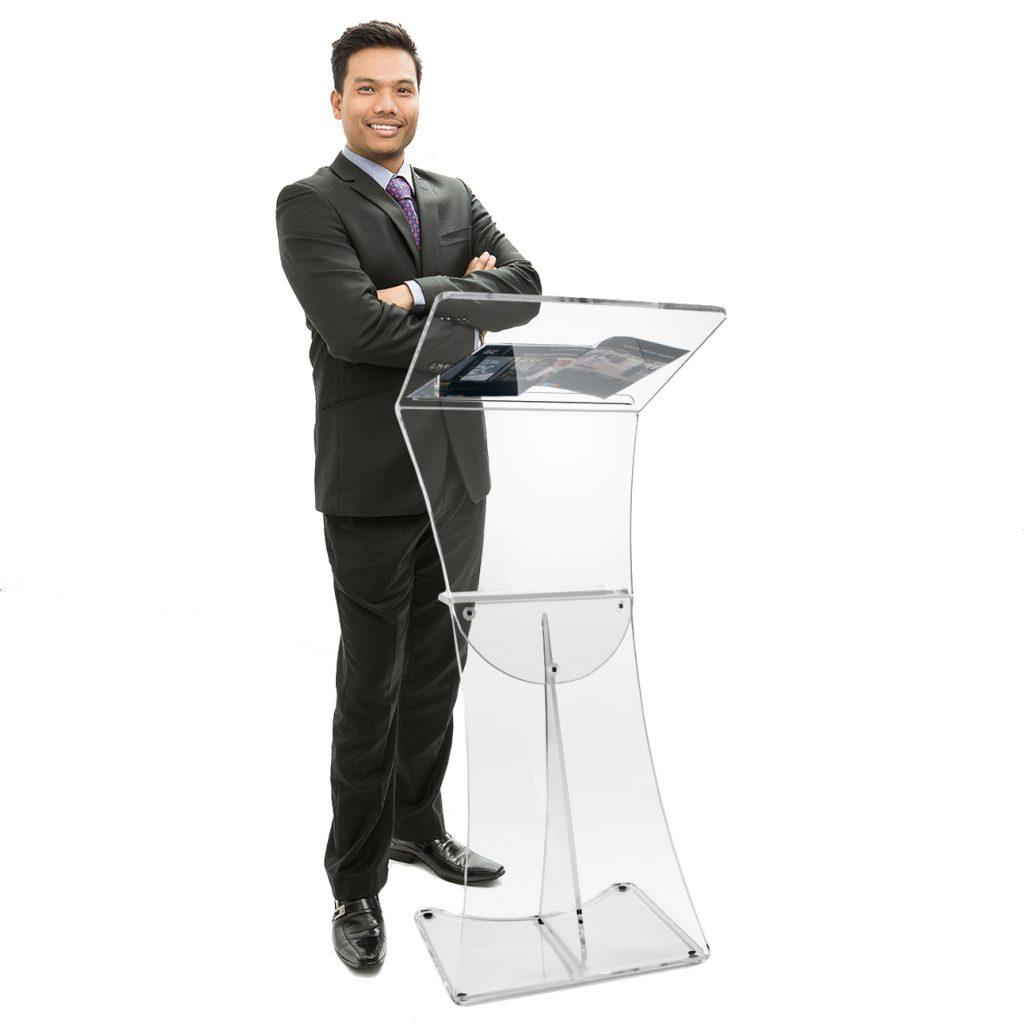 If acrylic isn't your style then we do offer a more natural selection of wooden lecterns. Featuring many different wood finishes to suit any interior. Some of our finishes include bamboo which has amazing environmental properties, plywood, oak veneer and more. Compared to acrylic,  wood has a much more natural and traditional feel to it, it is more scratch resistant and offers a strong surface finish. The wooden lecterns also give you more privacy compared to the acrylic counterpart and allow for more shelving to store everything you need. Taking advantage of it's its tough properties and innovating on the more traditional rostrum is the flat pack wooden lectern which can be deconstructed effortlessly to provide more space when storing or shipping the lectern and putting it all back together is equally as straightforward with our innovative locking system that fastens pieces simply by pushing them together.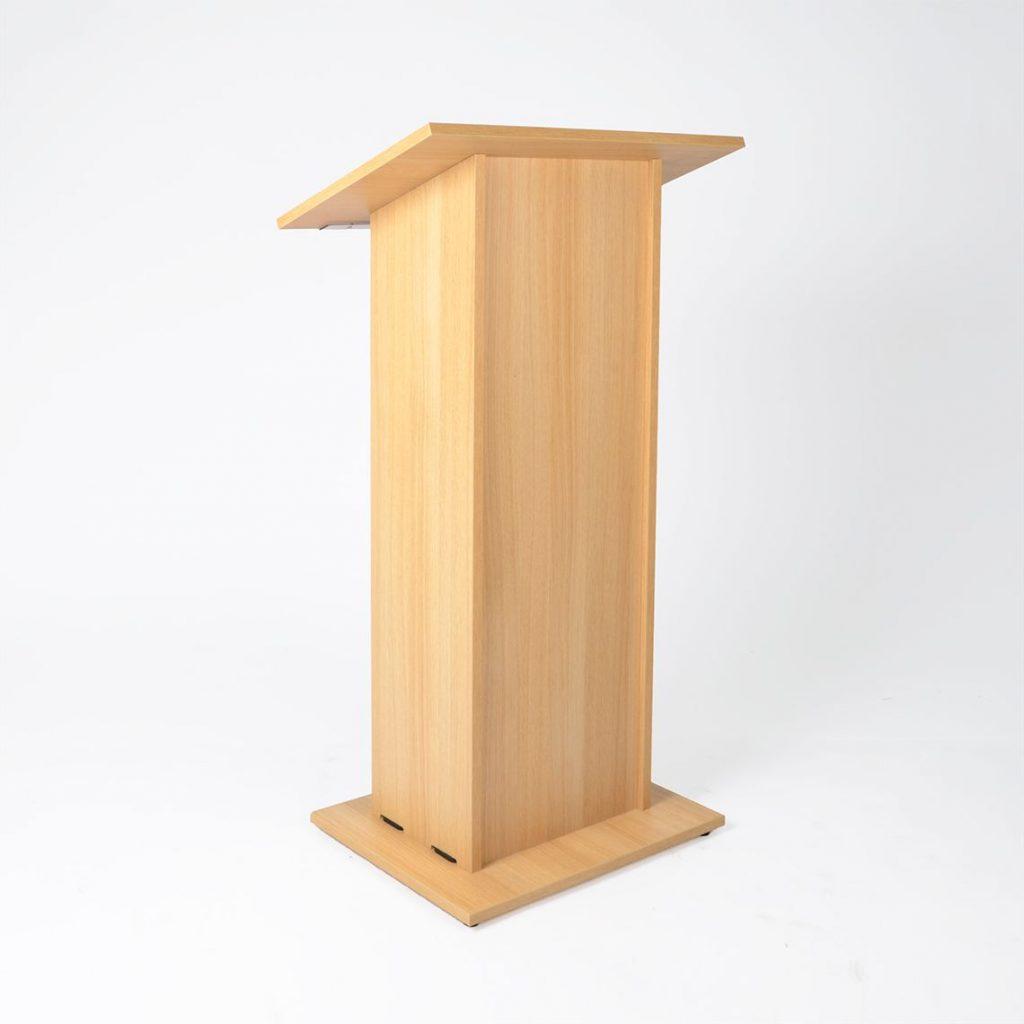 It's important to bear in mind that we do provide the best of both worlds with acrylic and wood construction combinations. These take the strong build of a wooden lectern with the sleek and modern style of acrylic to create stunning pulpits that are perfect for any occasion. The premium printed lectern is an extremely attractive choice and has the option of switching out the acrylic parts of the product with wood and vice versa giving you full control of the final outcome to make sure you get the lectern you want. The front panel on the lectern can be branded with logos or organisation names for a professional final product using our in-house printing service.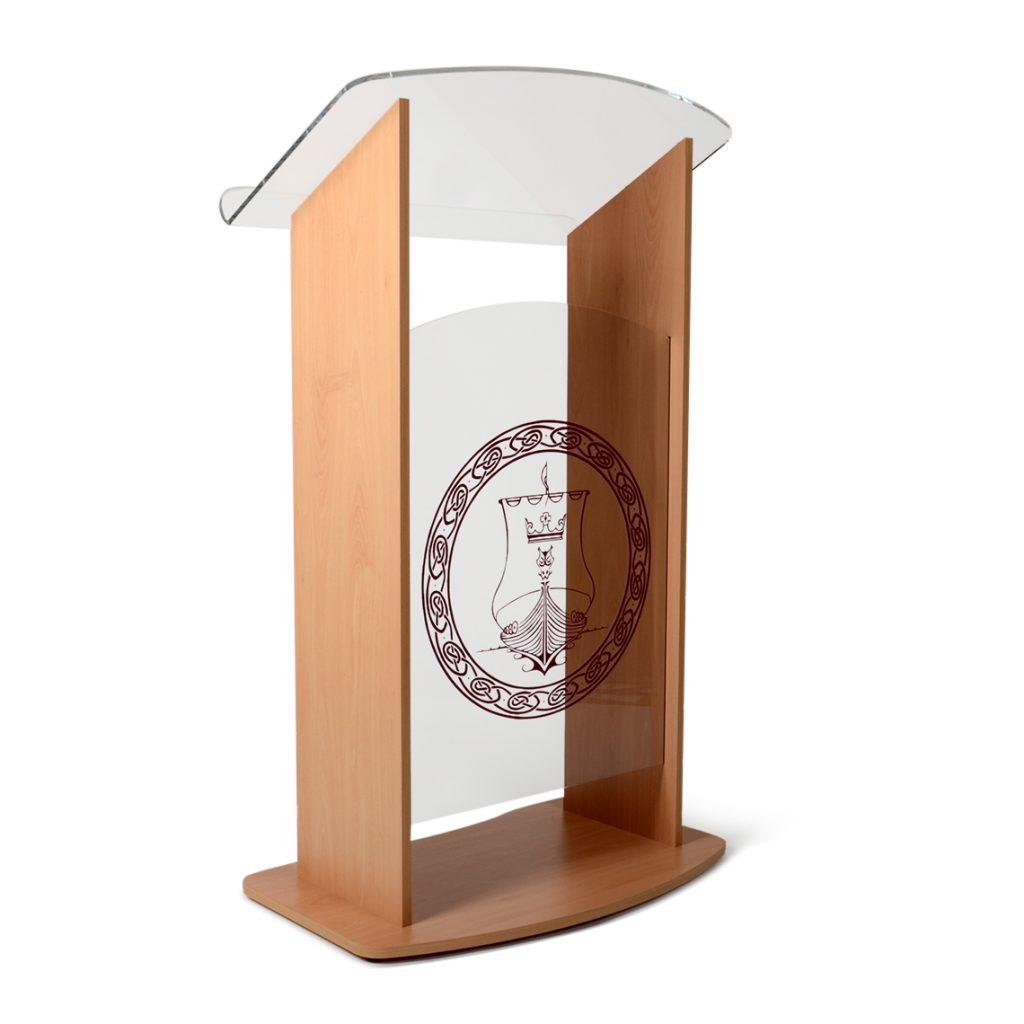 Luminati also specialises in church lecterns that are perfect for speeches, sermons and homilies. They feature simple yet strong designs and can hold religious symbols on the front of the lecterns to represent your beliefs or your place of worship. The units are mostly built out of wood to keep a traditional design and allow them to fit effortlessly into places of worship, schools, halls, lecture theatres and colleges.
For high-end, professional events we supply a plethora of presentation lecterns, highlighting some of our more contemporary designs to make sure you stand out on stage and keep the audience focused on you. The category has a wide variety of acrylic and wooden lecterns with varying designs from classical construction to more alternative models such as the illuminated lectern. The modern pulpit has eye-catching LED lighting behind the acrylic panel on the front, which can come in one of a few different colours and with the option of adding your own logo through our printing service.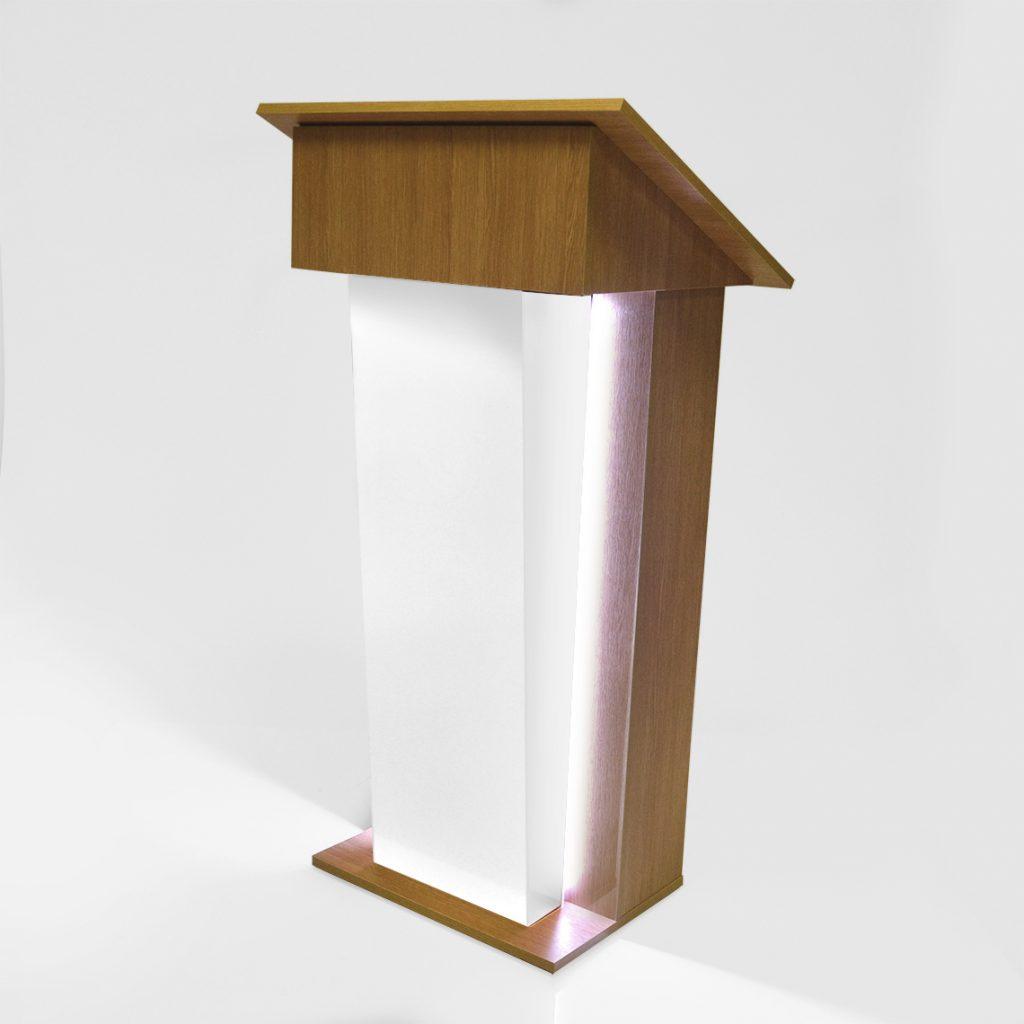 If extra portability is what you need all the while keeping the stunning designs of our full-floor standing units we have desktop lecterns which can be placed on top of other surfaces to create a professional platform to make your presentations from almost anywhere. With their smaller form, these lecterns are more lightweight than their floorstanding counterparts making it simple to perform presentations on the road. The bamboo wood portable desktop lectern is a favoured product in this category because of its environmentally conscious design, attractive finish and modern look. The unique lectern features a large shelf that is great for holding books, paperwork, laptops or tablet computers.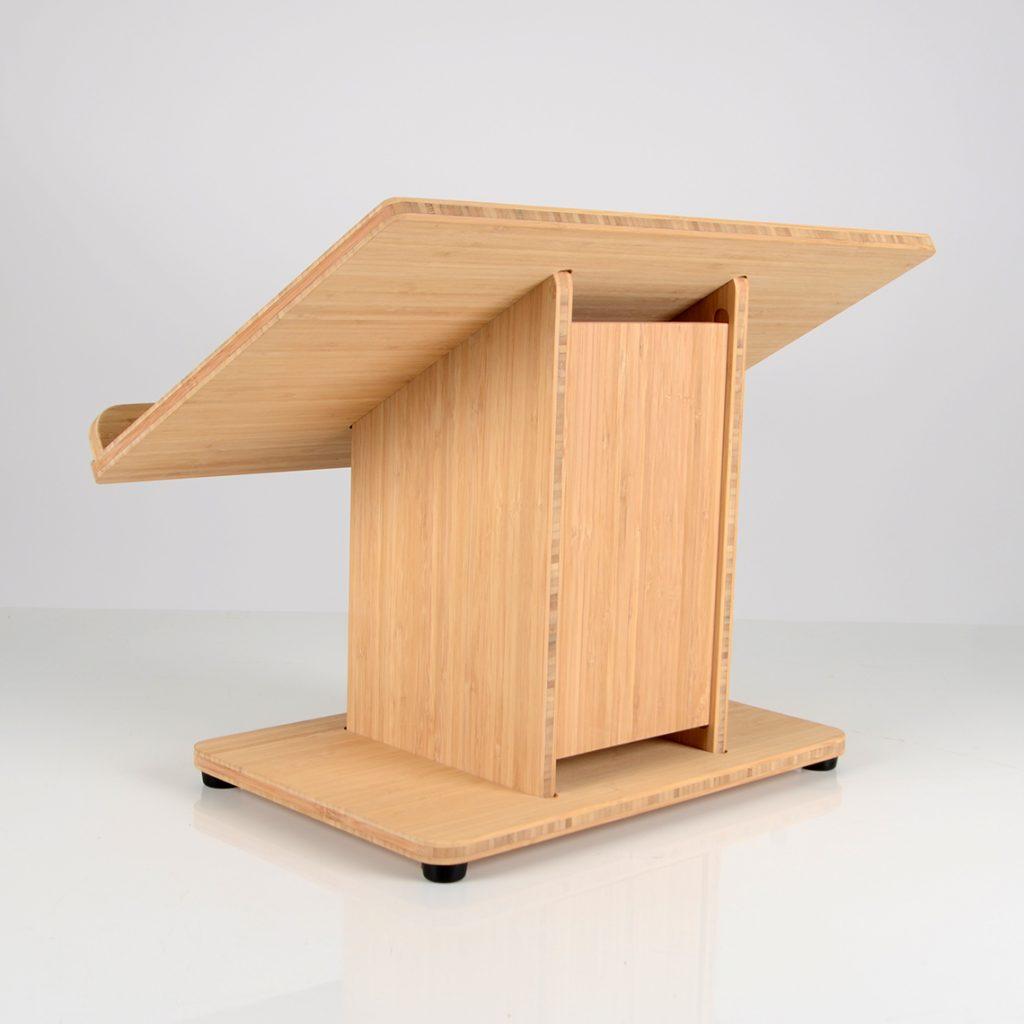 As mentioned previously with all of our lecterns, we do provide audio-visual modifications letting you add professional microphone ports, screens, and multimedia connections to keep your lectern up-to-date with technology allowing integration into almost any presentation environment. 
Additionally, we provide our display design service to let you customize our standard lecterns to your dimensions, alternate materials and design preferences allowing you to invest in a fully bespoke product built for you or your organisation. With this, we offer the option to add logos, text or imagery to your product to create a branded unique product to synergise with your brand identity. 
If you can't find a product in this blog that you prefer, head to our website for our full range of products including our entire lectern range or contact our helpful sales team at 01752 698720.