Druisilla's zoo is a family-run business located in East Sussex. The company stands for their mission to create an outstanding zoo and visitor attraction which excites children about animals and their environment. Going above the extra mile to provide an enjoyable and safe adventure for children, Drusilla's has transformed the place and opened more activities for people to enjoy. In 2021, Drusilla decided to add another attraction – the Candyland. This is located in the core of the park where children can take a break from activities and enjoy a selection of sweets and confectionery. A supplier recommended Luminati to take on this project and turn Drusilla's Candyland dream into reality.
Bespoke Pick N Mix Unit Requirments
Drusilla wanted to produce a high-quality pick n mix unit that can store variations of chocolates and candies. Our design team worked with Drusilla to create the concept design you can see below.
A prototype was created following the requirements whilst incorporating the brand elements such as the company's colours and theme. Luminati then went on to utilise its custom designing capabilities and added elements to produce the most desirable dispenser stand possible.
A WISA Multiwall material was used for the base and sides of the unit, a material best known not only for its durability but also for its hygienic and easy-to-clean property. The unit also has wall tether brackets, which secure the unit to the wall seamlessly to ensure it stays in place, making it safe for children.
The designers have also given a lot of thought to the dispensers and decided to go for 8L tube dispensers that are highly resistant and hermetically sealed to protect food from external contact. These dispensers are wall-mounted onto a simply hooked bracket that can be lifted out of the stand individually allowing easier refill. For further customisation, a removable panel was added that can be used for branding or seasonal artwork that would make the unit more visually appealing. A lockable storage cupboard was also incorporated into the unit which can be used to store items within reach.  
All these elements made this confectionary unit a perfect addition to Drusilla's Park. Now people can have a new place to enjoy whilst taking a break in between activities.
Luminati was able to fulfil all the requirements throughout the custom build project starting from design to execution. Drusilla was extremely happy working with Luminati and having a new eye candy for the zoo.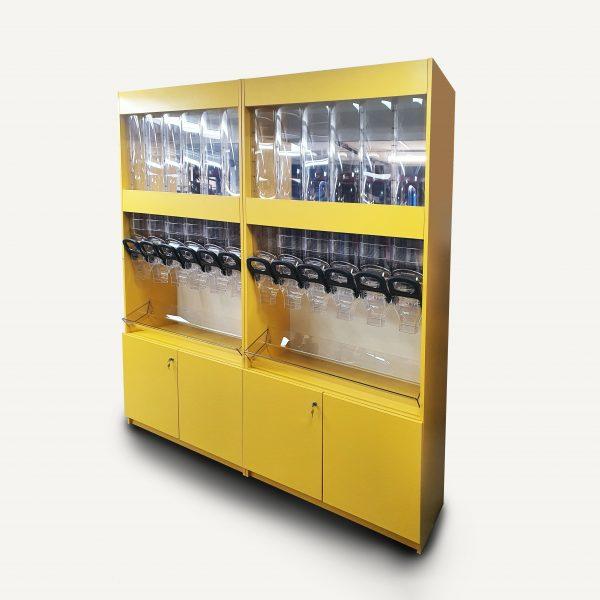 "Would highly recommend Luminati – extremely easy to work with and professional. Finished product is far better than I expected" – Malcolm Yarwood, Catering and Retail Manager at Druisilla's Zoo.