Managing space and choosing the right store displays are some of the challenges that store managers are facing- especially ones with small business space. Regardless of the type of business you are in, it is crucial to have good store organisation and space management. Some of the benefits of having a well-organised store includes improved shopping experience for customer, improved day-to-day operations, and most importantly higher engagement and conversions.  
In this blog, we will share with you different display and storage solutions that can improve your space. We will help you utilise every square inch to present your products effectively while maintaining the flow and experience of future visitors, combining what is functional and aesthetically beautiful.
1. Use Retail Display Shelves
One of the best ways to save space in your store is using retail shelves as they can act as a storage and display unit in one. It will allow you to display multiple products without looking cluttered and you can also play around with different shapes and types to make sure you are getting the most use out of your space.  You can always rely on display manufacturers such as Luminati to create the perfect shelving unit for you. From shoe display shelving , food retail shelves, to display stands and merchandisers,  there are various designs available to suit any industry.
It is important to consider the layout of your space. If you have limited floor space, you can always opt for wall mounted or countertop shelves. Of course, you can still use floor-standing units but it's important to choose designs that will allow you to display multiple products. Slatwall shelves are good examples and works very well with small retail spaces.
2. Make Use of Your Counter-Top To Drive Impulse Buying!
The design of your store may be an effective technique for boosting sales. Impulse sales can be encouraged by putting important products on your clients' radar with the correct merchandising display. A good example of this strategy are supermarkets- the checkout at most grocery shops is used to display items that people frequently buy on impulse like candy, gift cards, and other goods. You can do the same in your store by using countertop display units at your checkout counter. Consider adding units in your counter such as spinners ,  card holders, and other counter displays.
3. Utilise Your Window Space
There are numerous opportunities to attract potential customers from your store's exterior and designing your store window is one! Luminati offer a variety of window displays suitable for all types of business.
One of the most effective display you can use for your window are Digital screens. They are a great way to get the attention of potential customers passing by your store, raise awareness of your brand and communicate what you are selling.
Digital advertising screens are widely used in many different industries such as retailers, fashion stores, cosmetic stores, cafes, restaurants, opticians and other businesses! There are tons of different screens to choose from depending on your budget and requirement, from interactive touch screens to POS screens.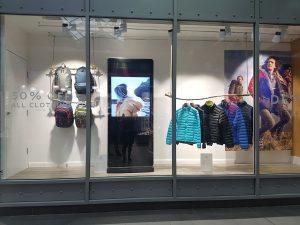 If you own a fashion store, a good way to make use of your window space is by displaying in season or newly arrived items. The best products for this are display plinths, stacking cubes and display shelves.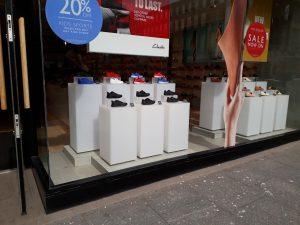 If you're in the service industry, another good way to use your window space is using  LED light posters and other illuminated displays . Not only will it make your prints more eye-catching, it will also create a more lively appearance for your shop. This works very well for estate agents but will also be a good display for travel agents, shops, bars, restaurants and more.
4. Choose the Right Materials and Shapes
Using common floor standing shelves and merchandisers may not always work for small spaces. Being strategic is key when choosing the right shape and materials for your display units. Luckily, Luminati are retail display experts that can produce unique designs to help you improve the efficiency and appearance of your store.
For example, an acrylic display unit can give the illusion of more space. Due to its transparent appearance, it can also fit very well with any theme, so there is no need to change the units when decorating your store for seasonal events or occasions!
When it comes to the shapes of your display systems, there are tons of clever designs you can play around with. For example, tiered bottle displays, double-sided A frames, slatwall shelving system and stacking display units, are great for making products easily visible without taking up too much space.