Print media is dead… Would be a great eye-catching title but it would also be untrue, digital media has certainly found its throne as the king of all media but print media still holds an important and valuable position. 
In a previous blog, we covered the rise of business-to-business (B2B) print communications and how business publications can reach highly targeted new audiences, with well-structured evergreen content.
Whilst commercial print is in decline, buying into the "print media is dead" opinion is doing a disservice to what is now a very real and novel way to engage your audience. 
Displaying your magazine or newsletters is straightforward with Luminati's wide range of newspaper & magazine dump bins. We stock a wide range of standard products and can also tailor a custom design to your own requirements. The goal of this blog is to cover some of our more popular dump bin options, our material choices and the extras we offer alongside these products.
Our two main styles of dump bin include static – with a solid base to stack printed media – and sprung dump bins, which allow for your magazine or newsletters to always be pushed to the top of the bin. 
Depending on the environment that the dump bin is placed in, making sure you pick the perfect material for your bin is extremely important. For instance, metal and acrylic can withstand some of the bumps and bruises of a busy retail environment whereas wood can provide a solis strong solution and foam PVC offers a more portable solution that is lightweight and convenient.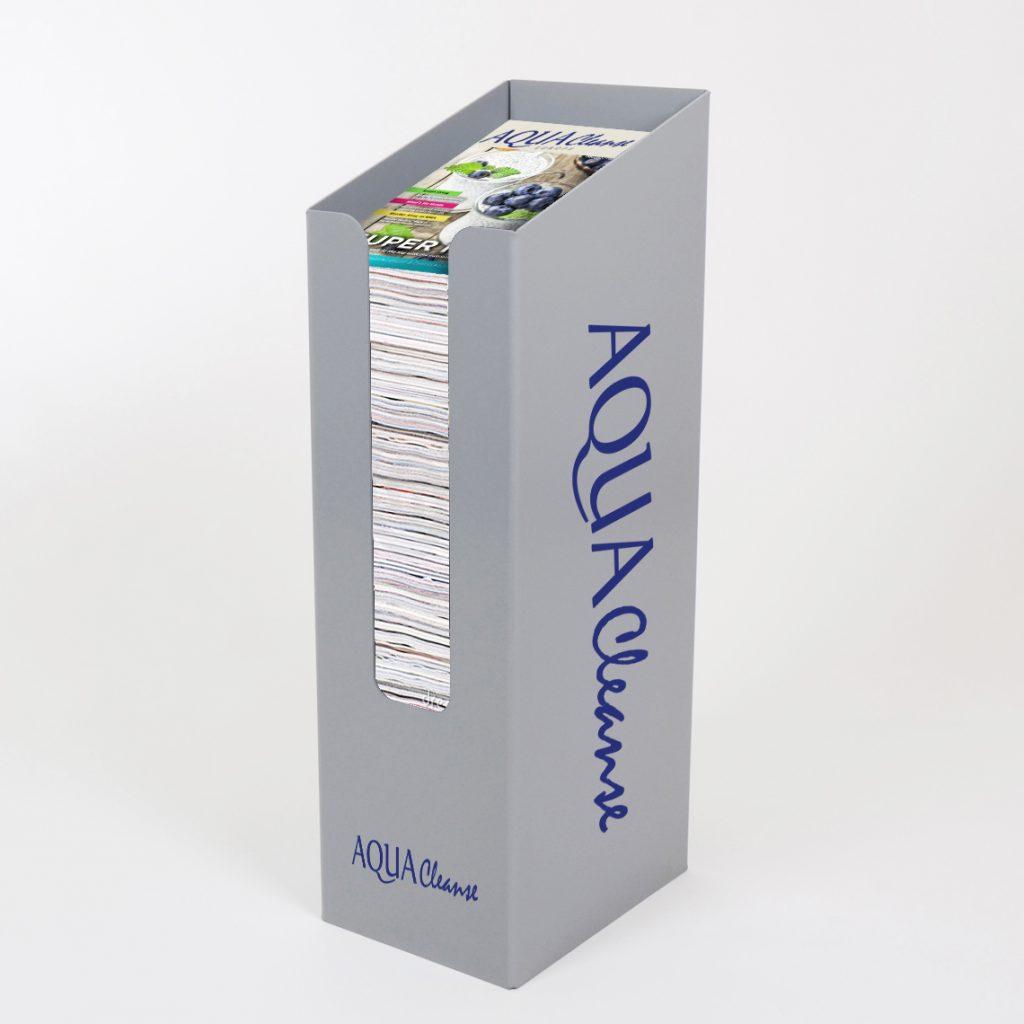 If you are looking for a robust display that will stand the test of time, the heavy-duty magazine dump bin in metal should be your first choice. Full steel construction makes this unit extremely strong, easily withstanding bumps and knocks in busy retail areas. The metal structure is resilient to high traffic areas and can be finished in a selection of 3 different colours; white, silver and black.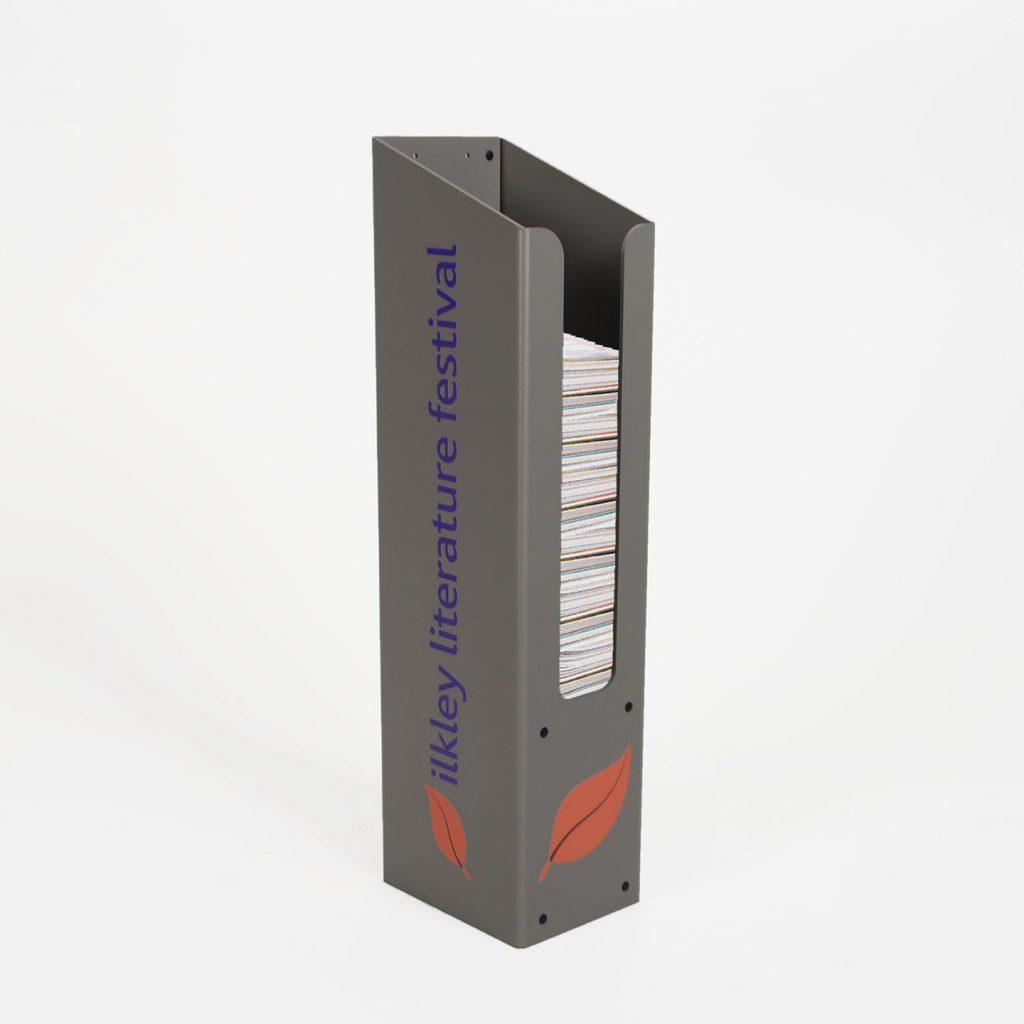 On the opposite end of the spectrum, we have the portable and lightweight magazine dump bin. Perfect for displaying magazines, tabloids and newspapers in retail areas. The cost-effective dispenser is manufactured using Foamex (Foam PVC), offering a great alternative to cardboard and lasting at least 20 times longer. The inclined shelf within the dispenser ensures that the literature on display is easily visible to potential readers. Similarly to the heavy metal dump bin, these magazine displays come with optional printing on the front, sides and header panels, great for a corporate display.  They are available in blue, grey, red, white and black finishes.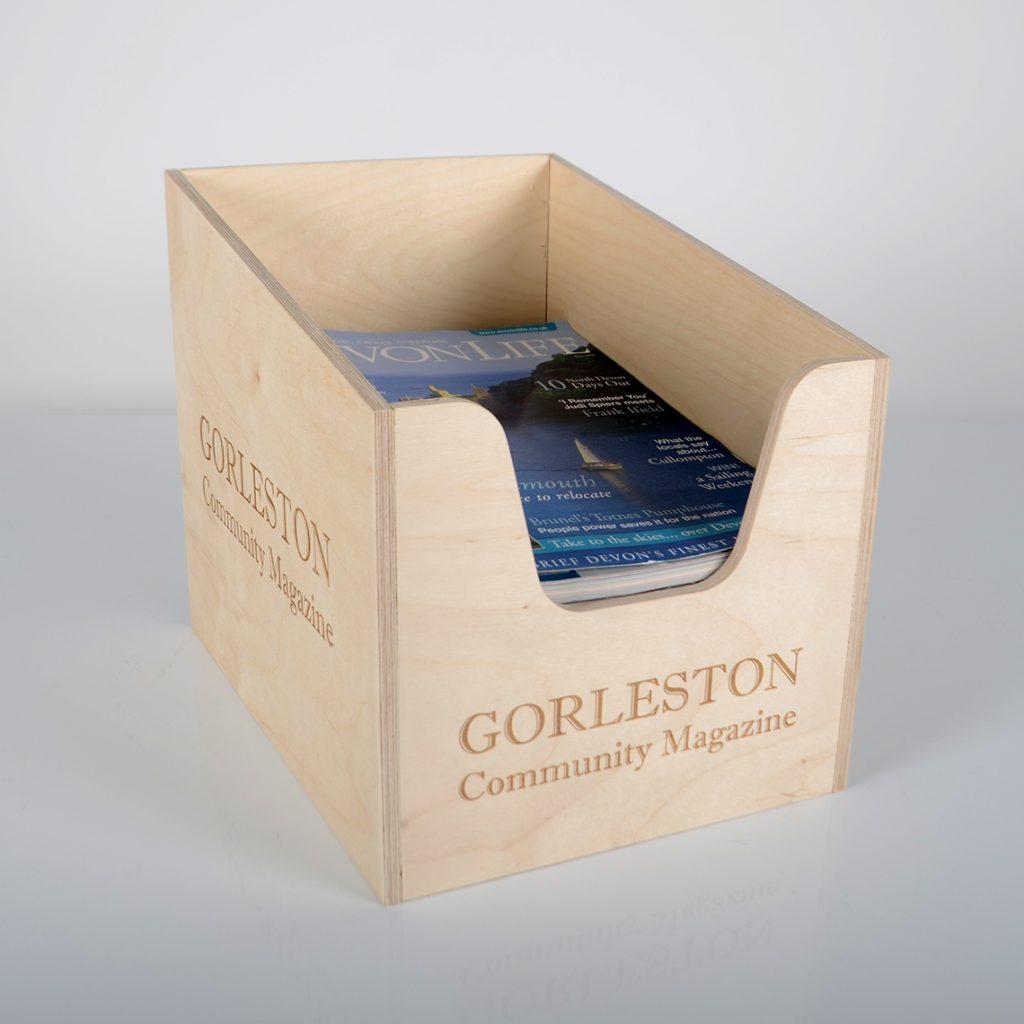 Perfect at checkouts, kiosks and reception desks the wooden magazine dispenser bin with optional logo is a beautiful rustic display that is great for countertops and welcome desks. Entirely constructed from 6mm FSC (Forest Stewardship Council) sustainable birch plywood, the unit is easy to move whilst retaining a strong and sturdy design.  The rustic aesthetics provided by the birchwood manufacturing make this unit stand out in retail settings, especially organics-focused shops. Branding this unit is straightforward with free engraving or full-colour printing included within the price.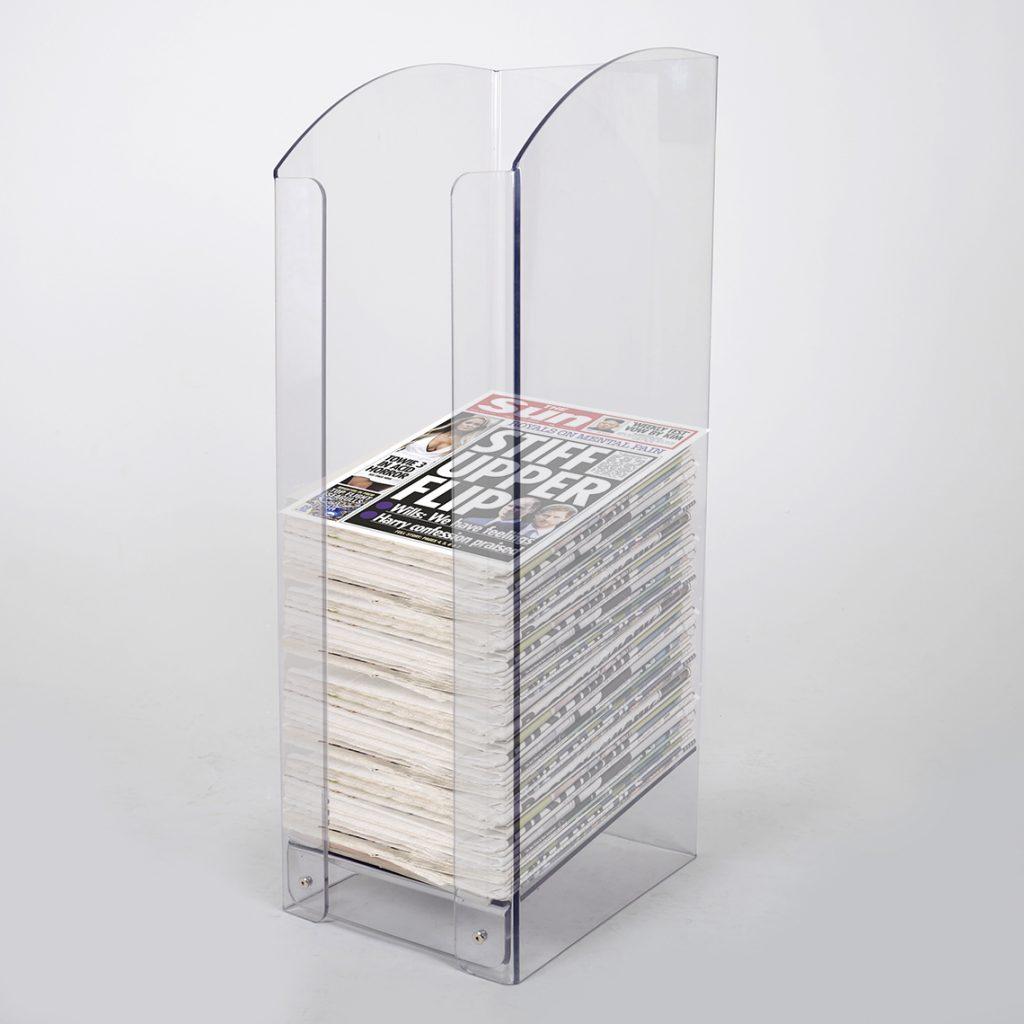 Our final material option is of course acrylic, with crystal clear transparency offering great visibility for items inside. The see-through construction of our transparent newspaper or catalogue dump bin is extremely popular in train stations, airports and public transport depots as the material doesn't hide any suspicious items that otherwise could be placed inside or underneath the unit. Investing in an acrylic dispenser is immensely worthwhile as the unit is long-lasting and can be used time and time again.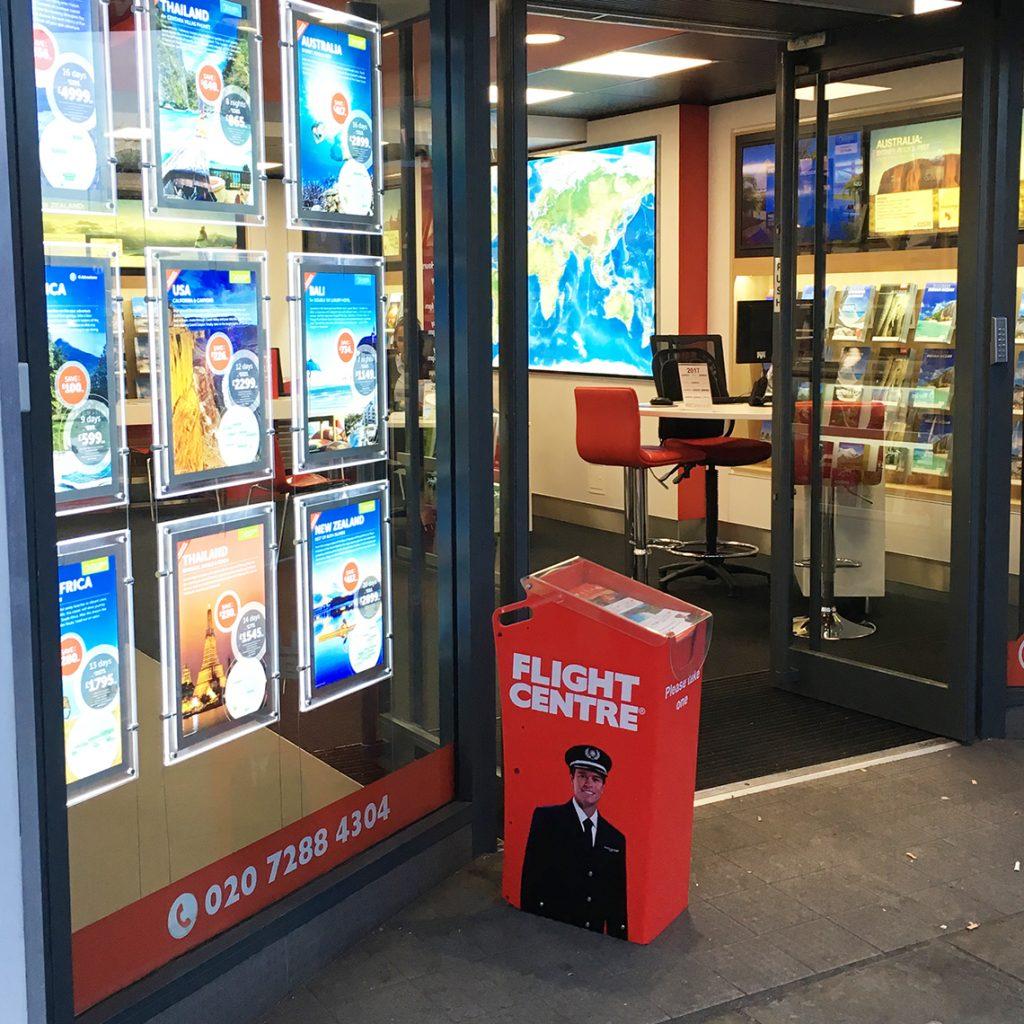 In terms of protecting your literature from the elements, the outdoor dump bin with wheels is the best pick. A weather-resistant lid ensures that the winter weather doesn't ruin your magazines, whilst the 2 small castor wheels are an ideal feature making the unit more portable and a perfect choice for pavement displays. 
This is just a small selection of the extensive range we have available online. If you require a bespoke solution, our innovative display design service is sure to fulfil your requirements. Providing alterations to our standard products or even producing a custom display from the ground up to your exact specification. 
Get in touch and discuss your requirements with our sales team on 01752 698720.