Welcome to our comprehensive guide to Luminati's exquisite range of glass cabinets. Whether you're a business owner, a museum curator, or someone looking to display your prized possessions, this page is your go-to resource for all your cabinet-related queries. We understand that choosing the perfect glass cabinet involves careful consideration of various factors, from security and durability to customisation options and aesthetics. That's why we've crafted this article to address the most common questions our customers have when exploring our products.
*Please be aware that our offering of Cabinets does change, we will endeavour to update this page as frequently as possible on rare occasions some features or products maybe discontinued or unavailable.
Page Contents & Questions
Click on the questions below to navigate straight to the answer.
What size and dimensions are available for the cabinets?
Our glass cabinets are available in a range of sizes to suit different display requirements. Typically, the heights range from 1970mm to 2000mm, while the widths vary between 400mm to 600mm. Depending on the specific product, the width can vary significantly, ranging from approximately 40mm to 2000mm wide.
Our cabinets are predominantly rectangular in shape, offering both visual appeal and practical display space for your artefacts, prized possessions, or valuables. We provide a diverse selection of sizes to accommodate various objects and seamlessly integrate them into different settings. If you need further information or assistance in selecting the appropriate size for your needs, please don't hesitate to contact our team.
What are the different types of glass cabinets available?
We provide a range of glass cabinets to suit various display needs:
Glass display cabinets with lighting: These cabinets are equipped with integrated lighting to enhance visibility and presentation.
Glass display cabinets without lighting: Sleek and minimalist in design, these cabinets accentuate your items without additional lighting.
Dustproof glass cabinets: With sealed construction, these cabinets offer added protection to keep your valuables dust-free.
Tabletop glass display cases: Compact and versatile, these cases are ideal for displaying items on tables or other flat surfaces.
Glass pedestal showcases: Featuring raised platforms, these showcases create focal points and add height to your displays.
What materials are used in the construction of the cabinets?
Our cabinets are built using high-quality materials to ensure durability and a refined aesthetic. The construction involves the following materials:
Glass: All the glass used in our cabinets is made from tempered and toughened glass. This type of glass undergoes special treatment to increase strength and safety, making it highly resistant to impacts and less prone to shattering.
Panels: The panels of our cabinets are made from standard wood, and carefully selected for their quality and durability. These wood panels are typically painted to match the frame, creating a cohesive and visually appealing design.
Frames: The frames of our cabinets are crafted from anodised aluminium, known for its strength, corrosion resistance, and sleek appearance. The aluminium frames are available in silver or black finishes, adding a touch of sophistication to the overall cabinet design.
Sliding Doors: Cabinets featuring sliding doors have steel ball bearings for smooth and effortless movement. These ball bearings ensure easy access to the displayed items while maintaining stability and security.
What security features are included to protect the displayed items?
All our cabinets are meticulously designed with the utmost consideration for security to safeguard your displayed items. One of the key security features incorporated in our cabinets is a lock mechanism. Each cabinet is equipped with a lock, offering an additional layer of protection against unauthorised access. This ensures the safety and preservation of your artefacts, prized possessions, or valuables.
Moreover, our cabinets are constructed using toughened glass, a specially engineered glass that exhibits higher resistance to breakage compared to standard glass. This reinforces the security aspect of the cabinets, providing enhanced protection for your displayed items. The utilisation of toughened glass adds an extra level of security, granting you peace of mind.
By integrating these security features into our cabinets, we prioritise the safety and protection of your valuable objects. You can have full confidence in the reliability of our cabinets' security measures, enabling you to showcase your items in an elegant and visually captivating manner while ensuring their utmost security.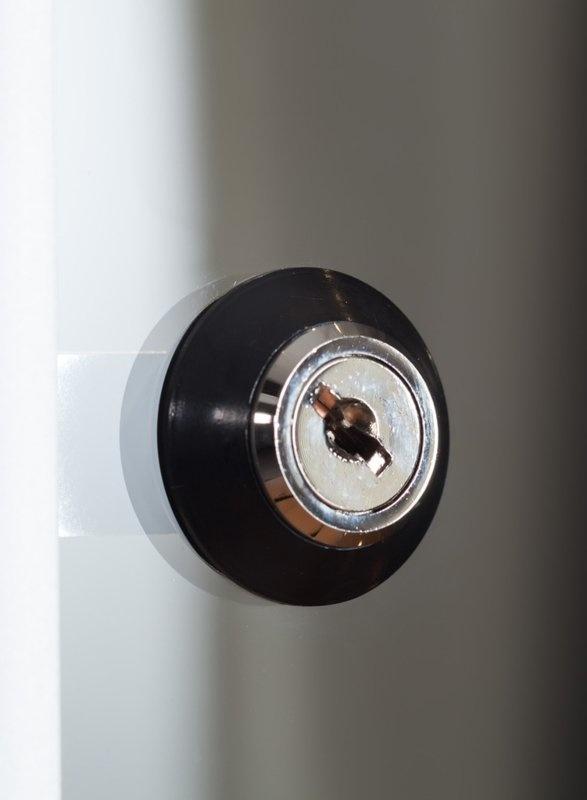 Do the cabinets provide sufficient protection against dust, moisture, and UV rays?
Our cabinets offer excellent protection against dust, moisture, and UV rays. We provide dustproof cabinets with sealed construction and effective sealing mechanisms to prevent dust accumulation. This ensures that your displayed items remain clean and well-preserved.
Our cabinets are designed to withstand typical environmental conditions and offer reliable moisture resistance. However, if you have specific requirements or need enhanced moisture protection for areas with high humidity levels, we recommend consulting our team for the best cabinet options.
The glass used in our cabinets is specifically designed to block a significant amount of harmful UV rays. This minimises the potential damage caused by prolonged exposure to UV radiation and provides added protection for your displayed items.
Can the lighting be adjusted to highlight specific objects or areas?
Our cabinets offer versatile lighting options that can be adjusted to highlight specific objects or areas of interest. We provide three main lighting options to suit your specific display requirements:
Top lights: These built-in lights are located at the top of the cabinet, providing even illumination across the entire display area. This allows you to showcase your items in a well-lit and visually appealing manner.
LED strips: Situated within the frame of the cabinet, LED strips offer a sleek and contemporary lighting solution. These strips provide a focused and adjustable lighting source, allowing you to precisely direct the light where you desire. This enables you to highlight specific objects or areas of interest within the cabinet.
Side lights: Positioned on the frame of the cabinet, our adjustable side lights can be moved up and down and their positioning can be adjusted. This feature gives you the flexibility to create desired lighting effects and accentuates particular objects or areas within the display.
These lighting options offer you the flexibility to customise the illumination in your cabinet, ensuring that your showcased items receive the perfect lighting to capture attention and create a captivating display.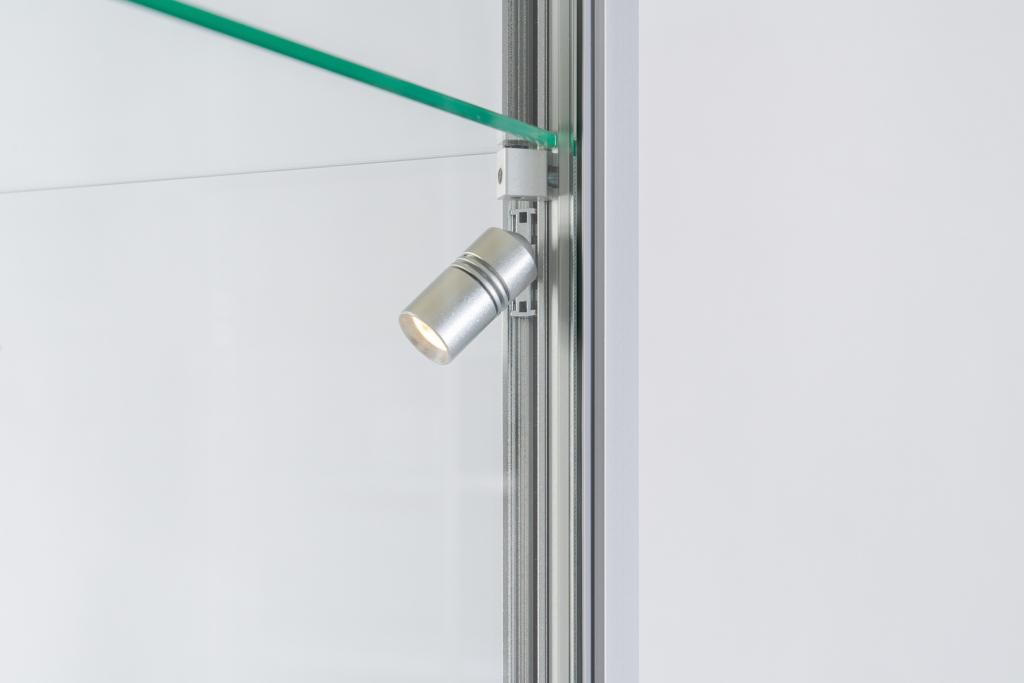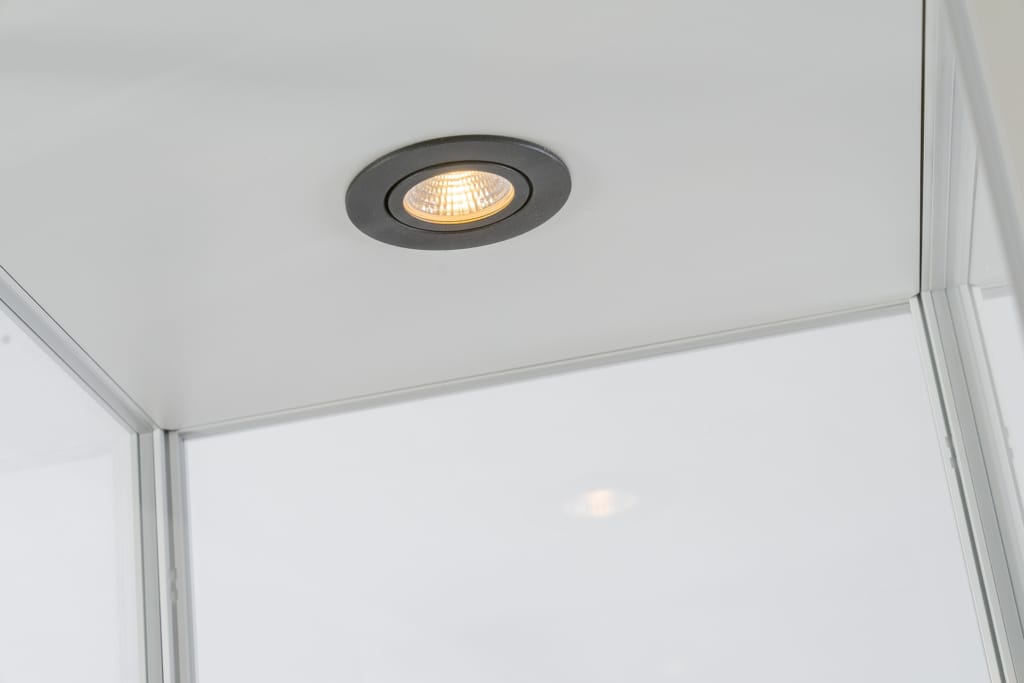 Are the cabinets easy to clean and maintain?
Our cabinets are designed to be easy to clean and maintain, as long as they are properly cared for. Regular cleaning with mild glass cleaner or soap and water is recommended. Avoid using harsh chemicals or abrasive materials. Wipe down the glass, frame, and components with a soft, lint-free cloth or sponge. Handle the cabinets with care, avoid excessive weight or pressure, and periodically check and tighten screws or fittings.
Are there any assembly or installation requirements?
No assembly is required for our cabinets. They come fully built and ready to be installed, saving you time and effort. The installation process is simple and straightforward. All you need to do is place the cabinet in your desired location. Whether you want to display it on the floor, mount it on the wall, or position it on a countertop, our cabinets are designed for easy installation and hassle-free setup.
What is the lead time for ordering and delivery?
Our cabinets are made to order to ensure the highest quality and customization. The lead time for ordering and delivery is typically between 4 to 6 weeks. During this time, our team will carefully craft and prepare your cabinets to meet your specific requirements.
We strive to deliver your cabinets as efficiently as possible while maintaining our commitment to craftsmanship and attention to detail. Please note that the lead time may vary depending on factors such as product availability and order volume. Our team will provide you with more precise information regarding the estimated delivery time when you place your order.
What is the price range for the different cabinets?
Our cabinets are available at a range of price points to accommodate different budgets and requirements. Prices start from £749 (ex VAT) and go up to £5,800 (ex VAT), depending on the specific model, features, and customisation options.
We offer a variety of cabinets with different designs, sizes, materials, and features to cater to various display needs. The price of each cabinet may vary based on factors such as the complexity of construction, the type of glass used, lighting options, additional functionalities, and any customisations you may choose.
To get more accurate pricing information and explore the specific options within your budget, we recommend contacting our team directly. They will be able to provide you with detailed pricing for the cabinets that best suit your requirements.