Trade shows are an integral part of the growth strategy for any business, allowing you to pitch your products and services directly to potential clients and partners. However, making an impact on the exhibition floor can be challenging if you don't know how to stand out at a trade show.
This blog gives you tips and tricks you can use to make sure your trade show display stands out this year and the next.
But first, what is a trade show, and what does it mean for your business?
What Is a Trade Show and How Does It Work?
A trade show is an event where businesses in a particular industry gather to showcase and demo their products or services. These events typically attract industry professionals and customers interested in the latest offerings.
Some trade shows focus on a specific industry, while others are more general in nature. Here are some of the most common types of trade shows:
Industry Trade Shows:
These focus on a specific industry, such as automotive or health care. They provide an opportunity for companies in that industry to showcase their products and services to potential customers.
Consumer Trade Shows:
These trade shows are open to the general public and feature products and services available for purchase. They are often held in large convention centres and attract many exhibitors and attendees.
B2B Trade Shows:
They are designed for businesses to meet and do business with other businesses and provide companies with opportunities to network and build relationships with potential partners and suppliers.
Educational Trade Shows:
They are often geared towards professionals in a particular industry, such as real estate or marketing, with a focus on providing educational seminars and workshops for attendees.
International Trade Shows:
These trade shows attract exhibitors and attendees from all over the world. They allow companies to showcase their products and services to a global audience.
Ways to Make Your Trade Show Booth Stand Out
In order to make the most of a trade show, it's important to have a well-designed exhibition booth display that catches the eye and conveys your company's message clearly. Here are four effective ways to make your booth stand out:
1. Choose the Right Location
Your trade show booth location is important for a number of reasons. First, you want to be sure that your booth is in a high-traffic area so potential customers will see it. Second, you'll want to be sure that your booth is close to any seminar rooms or other events, as this will help draw people to your booth. Lastly, you'll want to ensure that your booth is accessible and easy to find.
2. Communicate Visually
This means using eye-catching exhibition booth displays that are designed to attract attention. You need to ensure that your displays are well-lit and that the signage is easily read from a distance. Additionally, you should use inviting colours and bold graphics highlighting your company's key messages while reflecting your brand image.
3. Interactive and Engaging Displays
Your trade show booth display is often the first thing that potential customers will see, so it's important to make a good impression. One way to do this is to have interactive and engaging displays.
This can include things like touch screens brochures, games, or even just simple branded giveaways. Trade show displays can help you create an experience for your visitors, making them more likely to remember you and engage later.
4. Create an Inviting Layout
When you're planning your trade show booth, it's important to create an inviting layout that will encourage people to stop and learn more about your product or service. There are at least five trade show booth layouts; inline booths, corner booths, peninsular booths, split island booths, and island booths. An island booth layout is usually the largest in size(20'x20′) and tends to attract more attention as it's accessible from all sides. Depending on your budget, choose a layout that best suits your needs and one that can contain the traffic you intend to attract.
Types of Trade Show Displays
Exhibition booth displays come in all shapes and sizes, from simple portable displays to custom trade show displays.
Portable displays are the most common type of trade show display. They're easy to set up and can be taken down easily after the event is over. Most are made from fabrics and lightweight materials with graphics draped over them. The most common include pop-up displays, hanging structures, tabletop covers and runners, and banner stands.
On the other hand, custom trade show displays are made from a variety of materials and, due to their complex nature and detail, may require onsite setup. These displays are designed to meet the specific needs of the exhibitor. They offer more value and functionality than standard exhibition displays but cost more as well. So how do you create an effective trade show booth?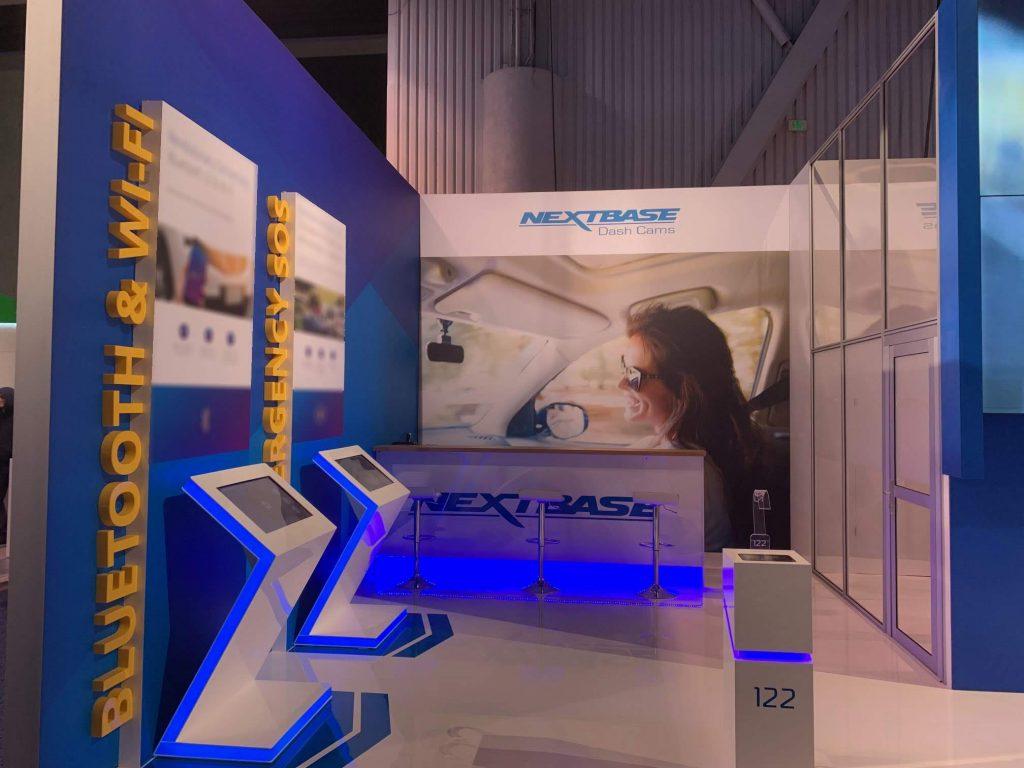 Maximising and Designing Your Booth Space Using the Right Displays
When it comes to trading show displays, the design and planning of your trade show exhibit have to be executed in a way that maximises your available space so as to create the best possible impression for your brand.
Your booth space should make use of all available surfaces, including the floor. For example, if you are displaying a product, why not set it up on a plinth? This will make it more visible to passers-by and will also ensure that it doesn't get lost amongst all the other products on display.
The use of eye-catching graphics is another great way to make your booth stand out from the crowd. Large format printed graphics can be used on the walls of your booth to create a visually stunning backdrop. Alternatively, you could use them to create a 'step and repeat' effect, which is often used at red carpet events. This is a great way to get your brand name and logo seen by a large number of people.
Essential Items to Bring to Your Next Trade Show
If you're exhibiting at a trade show, there are a few essential items you'll need to bring in order to have a successful show. Here's a list of things you shouldn't forget:
Brochures – make sure you have plenty of brochures on hand to give away. You can purchase brochure holders to maximise storage space. Some brochure holders even have the option of being branded to increase company exposure
Marketing materials – pack some marketing materials like business cards or flyers so that attendees can contact you later on down the line if they want more information about your company.
Promotional Items – be prepared with some promotional products like pens or stress balls so that people walking by your booth feel welcome and appreciated for taking the time to stop by and visit with you!
Trade show maps – don't forget to include and advertise free trade show maps onsite. This is a quick trick to attract more potential buyers to your booth.
Promoting Your Trade Show Event
In the days leading up to the event, create a landing page on your website specifically for your trade show event. This landing page should include all relevant information about the event, such as date, time, location, and a link to purchase tickets.
Next, create social media posts and use relevant hashtags to promote the show. Make sure to post frequently and tag relevant industry influencers in your posts. Social media is a powerful marketing tool, and being consistent in your posts will raise more awareness. Invest heavily in this, especially if you're exhibiting at a consumer trade show.
Lastly, send out email blasts to your mailing list promoting the event and include a call-to-action in the email, such as a link to purchase tickets.
Exhibiting at a trade show can be a great way to build business relationships and generate leads. In addition, with so many people attending, there are bound to be opportunities for you to meet people in your industry and learn about new opportunities.
The challenge is figuring out how you'll stand out from the crowd, and that's where bespoke exhibition displays come into play.
Here at Luminati, we offer a range of different styles and types of trade show displays which can be used to create the best possible environment to showcase your brand. We believe that good design is vital as it significantly impacts the overall look and feel of your booth. As a result, we work closely with our clients to ensure that the end result is an eye-catching, functional, and visually appealing display.
If you're looking for ways to stand out at a trade show event, contact us today for portable and bespoke exhibition displays.
Ready to purchase your trade show displays?
Looking for Inspiration? Check out our Tradeshow designs: