Food Festivals For Small Businesses & Restaurants
Food festivals are a fantastic opportunity for restaurants and artisan food companies to showcase their unique offerings and connect with potential customers. In the UK, there are a wide variety of food festivals to choose from, each with their own unique atmosphere and audience. Whether you're a small start-up or a well-established business, there's a food festival out there for you. 
In this blog post, we'll be taking a look at some of the best food festivals in the UK for restaurants and food companies to exhibit at. From the bustling streets of London to the picturesque countryside, there's something for everyone. So, if you're looking to promote your business and connect with foodies from all over the country, read on to find out which festivals are the perfect fit for you.
Food Displays & Cabinets For food stalls
Before we dive into our list of top food festivals in the UK, we want to mention that Luminati offers a range of acrylic food displays and sneeze screens which are perfect for businesses travelling to these events. These displays are stylish, durable, and easy to transport, making them ideal for showcasing your products at any festival.
With Luminati's acrylic food displays and sneeze screens, you can rest assured that your business will be well-presented and protected while you connect with foodies from all over the country.
List of UK Food Festivals 2023:
To make it easy for you to find the perfect food festival for your business, we've included a map of the UK with the locations of popular festivals as well as included more top UK food festivals in the table below!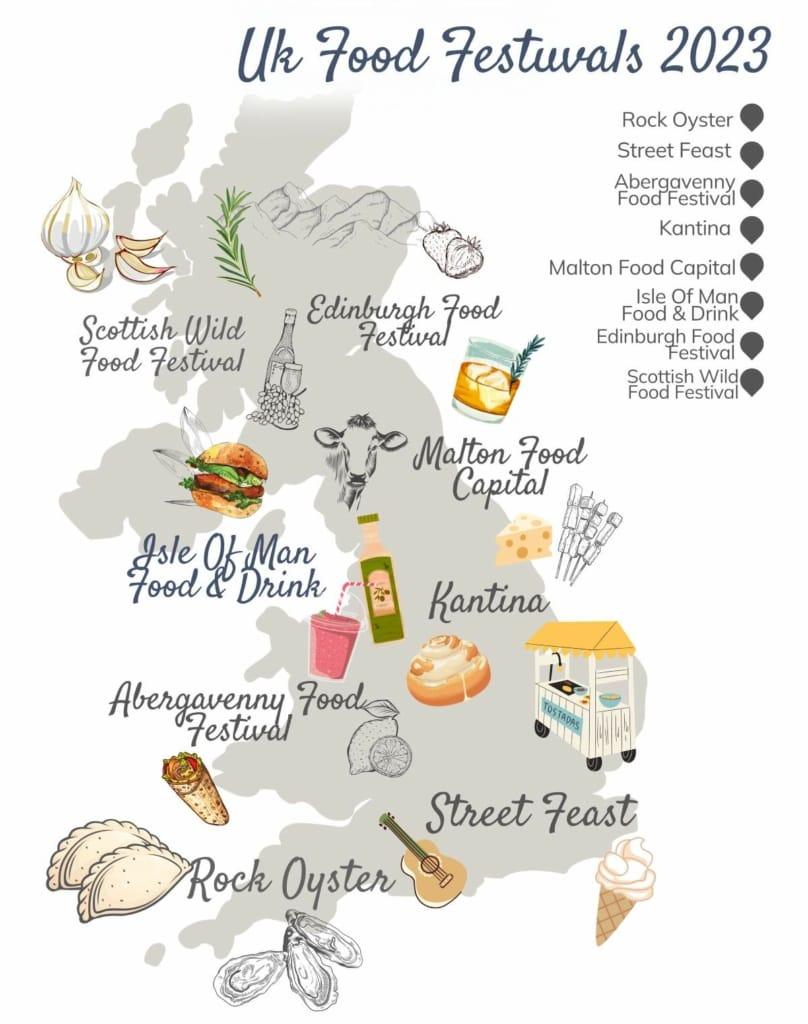 *Some food festivals have multiple locations and dates which run over a number of days, please visit the linked to site to find out more information.
Why Attend or Showcase at a Food Festival?
As a restaurant or artisan food business, participating in a food festival in the UK can be a great way to showcase your unique offerings and attract new customers. Not only will it increase your brand awareness and provide valuable exposure to a wider audience, but it will also be a great opportunity to network with other industry professionals, as well as suppliers and distributors.
Attending a food festival can also provide valuable insights into industry trends and new products, allowing you to stay competitive in the market. Plus, it's a fun and exciting way for customers to discover new and exciting foods and products, and can help drive sales for your business.
Participating in a food festival can also be a great way for your business to build relationships with your local community and give back through charitable initiatives often associated with these events. By attending a food festival, you'll be in the company of other like-minded businesses and the opportunity to connect with them and learn from them is invaluable.
| Name | Start Date | Address / Location | Website |
| --- | --- | --- | --- |
| Manchester Vegan Festival | 12-Mar-23 | Bowlers Exhibition Centre, Manchester | Link |
| Porthleven Food Festival | 21-Apr-23 | Porthleven, Cornwall | Link |
| Marylebone Food Festival | 25-Apr-23 | Marylebone, London | Link |
| Vegfest | 29-Apr-23 | Brighton | Link |
| Foodie Festival | 29-Apr-23 | Brighton | Link |
| Pub in the Park 2023 | 12-May-23 | Various | Link |
| Malton Food Lovers Festival | 27-May-23 | Malton, North Yorkshire | Link |
| Kantina | 04-Jun-23 | Manchester | Link |
| Body & Soul Festival | 16-Jun-23 | Westmeath, Ireland | Link |
| Rocky Oyster | 27-Jul-23 | Dinham House, Cornwall | Link |
| Vegan Camp Out | 28-Jul-23 | Bicester, Oxfordshire | Link |
| London Craft Beer Festival | 11-Aug-23 | Tobacco Dock, London | Link |
| The Big Feastival | 25-Aug-23 | 'Alex James' farm in the Cotswolds | Link |
| Ludlow Food Festival | 08-Sep-23 | Ludlow, Shropshire | Link |
| Abergavenny Food Festival | 16-Sep-23 | Abergavenny, Wales | Link |
| Isle of Man Food & Drink Festival | 16-Sep-23 | Isle of Man | Link |
| Festival of Food & Drink | 16-Sep-23 | Thoresby Park, Nottinghamshire | Link |
| Aldeburgh Food & Drink Festival | 24-Sep-23 | Snape Maltings, Suffolk | Link |
| Falmouth Oyster Festival | 13-Oct-23 | Falmouth, Cornwall | Link |
| Scottish Wild Food Festival | TBC | Glasgow, Scotland | Link |
| Meatopia | TBC | Tobacco Dock, London | Link |
| Edinburgh Food Festival | TBC | Edinburgh | Link |
| Whitstable Oyster Festival | TBC | Whitstable , Kent | |
| Eastival | TBC | Hackney Wick, London | Link |
| Great British Beer Festival | TBC | Olympia London | Link |