Digital advertising has become increasingly important in outdoor spaces in recent years, with more and more businesses and organisations realising the benefits of using digital displays for advertising and communication. Outdoor digital displays offer a dynamic and engaging way to share information and reach a wider audience, making them an essential tool for any business or organisation looking to promote their products or services.
The benefits of outdoor digital displays are many. One of the key advantages is their ability to offer greater visibility than traditional advertising methods. With their high brightness and contrast ratios, digital displays can be easily seen in all lighting conditions, making them ideal for use in busy outdoor spaces. In addition, digital displays can be used to show video content and animations, which are more likely to grab people's attention and keep them engaged.
Another benefit of outdoor digital displays is their flexibility and versatility. Digital displays can be used for a range of purposes, including advertising, information sharing, and wayfinding. They can be easily updated with new information or advertising, making them a more cost-effective solution than traditional print advertising. Digital displays also offer a higher return on investment for businesses and organisations, as they can generate revenue through advertising or sponsorships.
Available in sizes ranging from 22″ to 86″, our displays offer a range of features and benefits that make them an ideal solution for outdoor advertising and communication.
Vandal Proof: These displays are designed to withstand damage that may occur in public spaces, with an enclosure made of mild steel and a thermally-toughened glass front. Rated IK10, they are vandal-proof and can resist even the toughest impacts. To prevent tampering, the controls and inputs are hidden and inaccessible to passers-by, ensuring the display remains secure at all times.
Advanced Temperature Control System: This display features an advanced temperature control system that helps to extend its lifespan. The internal airflow system keeps the screen operating at the optimal temperature, regardless of external conditions, ensuring reliable performance in any climate. With built-in air conditioning, the system can be customized to suit a variety of environmental conditions, keeping the display running smoothly and efficiently.
Plug and Play: The display is designed to be incredibly user-friendly, featuring a simple "Plug and Play" functionality for uploading content. To get started, just load your images and videos onto a USB drive, insert it into the display, and wait for the content to copy over. Once complete, the display will automatically play your images and videos in a continuous loop, making it easy to share your content with your audience.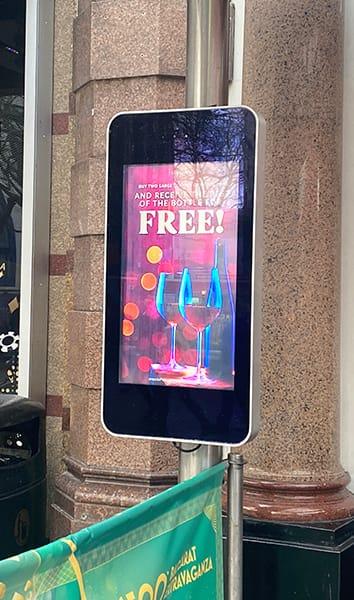 Our Outdoor Freestanding Digital Posters offer a versatile and eye-catching solution for outdoor advertising and communication. Available in sizes ranging from 43″ to 86″, these posters are designed to capture the attention of passersby and engage them with your messaging.
Direct Sunlight Readable: These displays feature commercial grade ultra-high brightness panels, boasting a brightness level of up to 2,500cd/m². This makes them up to 10 times brighter than a domestic TV and ensures they are easily readable even in direct sunlight. Whether used in bright outdoor spaces or in areas with high levels of natural light, these displays offer exceptional visibility and performance, ensuring your messaging is effectively communicated to your audience.
Weatherproof: Built to withstand the harshest outdoor environments, these displays feature a robust IP65-rated enclosure that protects against all wet weather conditions and airborne dust particles. Additionally, all internal circuit boards are coated with a waterproof layer and the AV connectors are over-moulded for extra protection. This ensures that the displays can operate reliably and effectively in any weather conditions, providing a durable and long-lasting solution for outdoor advertising and communication needs.
Easy Maintenance: In addition to being weatherproof, these displays are designed to be easy to maintain. The rugged enclosure can be easily accessed, making it simple to clean and service as needed.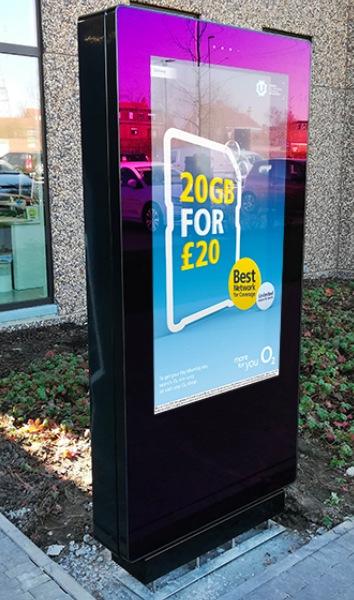 Our Outdoor Digital Android Battery A-Boards offer a portable and flexible solution for outdoor advertising and communication. Its lightweight and portable design, combined with battery power, make tit an energy-efficient and cost-effective option for businesses and organizations looking to promote their products or services in a range of outdoor spaces.
Fully Portable: Featuring a lightweight moulded polymer rear, these displays are designed for maximum portability. The lightweight construction, combined with rugged castors, allows them to be easily moved by one person. The specialised castors are designed to minimise vibrations on uneven surfaces, ensuring that the internal components are protected for a longer product lifespan. With their fully portable design, these displays are ideal for businesses and organisations looking for a flexible solution to outdoor advertising and communication needs.
Tempered Anti-Glare Glass: The front of these displays is made of tempered glass that has been treated to give an anti-glare finish. This feature completely diffuses external light reflections without reducing the brightness of the screen. As a result, on-screen content is more easily readable, even in bright outdoor conditions. The tempered glass construction also provides added durability and protection for the display, making it resistant to scratches and other forms of damage. With their anti-glare glass, these displays offer a clear and high-quality viewing experience for your target audience, ensuring your messaging is effectively communicated in any environment.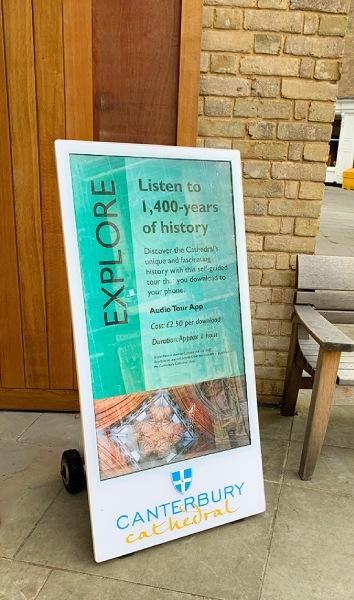 If you're looking to promote your business or organisation in outdoor spaces, investing in an outdoor digital display can be a game-changer. With their dynamic and engaging capabilities, they offer a modern and effective way to reach your target audience and grow your brand. 
We hope this article has provided you with valuable insights into the power and potential of outdoor digital displays, and helps you make an informed decision when selecting the best product for your needs.
To explore our extensive range of digital screens and learn more about how Display-Screens.com can revolutionise your retail display, we invite you to visit our brand-new website at https://display-screens.com/. It's a one-stop destination for all your digital display needs.