Transforming Educational Spaces: School Fit Out & Refurbishment with Luminati
The education sector has experienced a major shift in recent years, with increasing emphasis on creating an inspiring and engaging environment for learning. A significant part of this transformation is refurbishing or fitting out schools with innovative and dynamic display systems. At Luminati, we are proud to offer a wide range of products and solutions, designed to transform these educational spaces while maintaining functionality and safety.
Unveiling the Potential with Refurbishments and Fit Outs
School refurbishments and fit outs aren't just about making the environment look more modern or aesthetically pleasing. They're about redesigning and equipping the spaces to enhance learning, foster creativity and promote student engagement. From interactive wall-mounted acrylic frames to display cabinets, we offer custom solutions that meet the specific needs of schools and other educational institutions.
Our wall-mounted acrylic frames are a sleek, modern, and efficient way of displaying information in schools. These clear, durable frames are perfect for displaying student artwork, school achievements, or even weekly schedules and announcements. The minimalist design of these frames helps to ensure the focus is on the content rather than the frame, offering an elegant solution to the traditional cork bulletin board.
Our Acrylic display cabinets are an excellent way to showcase awards, trophies or school projects, adding a professional touch to your school's entrance, corridors, or classrooms. The transparent nature of the acrylic provides an unobstructed view of the items, while their robust design ensures durability and longevity. They are perfect for capturing the essence of the school's accomplishments and fostering a sense of pride among students.
For schools looking to add a touch of sophistication to their environment, our glass cabinets are a perfect fit. These cabinets serve as a great focal point, highlighting significant achievements, antiques, or educational models. The additional safety feature of tempered glass ensures durability and security, making these cabinets an excellent choice for high-traffic areas in schools.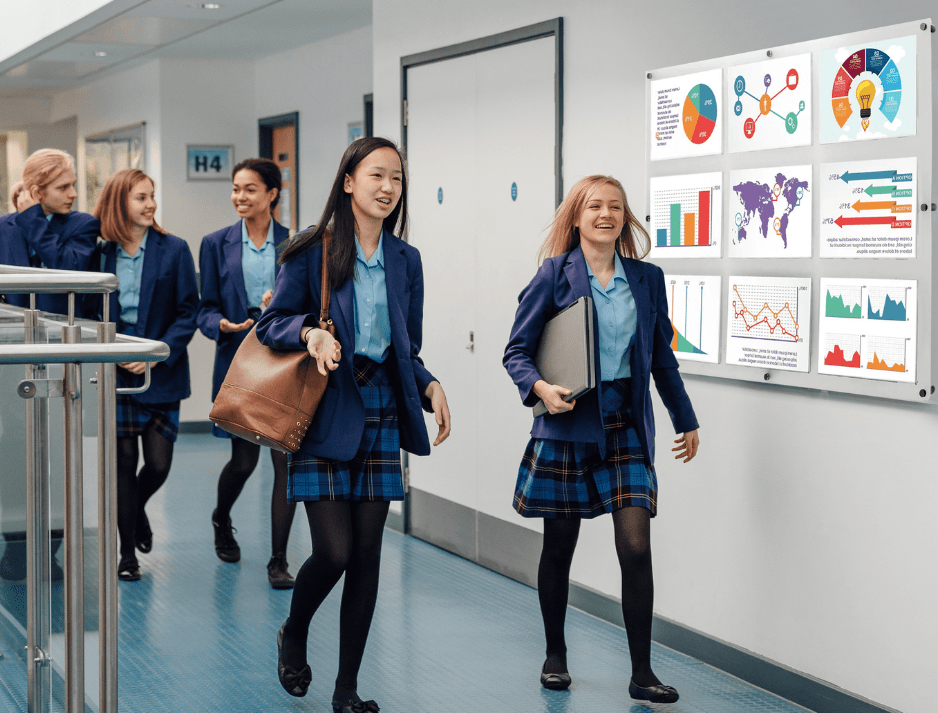 Health and safety are paramount in a school environment. Our wallboards offer an effective and organised way to display important notices, guidelines, or reminders to staff, students, and visitors. Designed to be easily updated and highly visible, these wallboards can contribute to a safe and well-informed school community.
Luminati & School Fit Outs
Refurbishments and fit outs offer an exciting opportunity for schools to reshape and redefine their spaces in a way that boosts engagement, inspires creativity, and enhances learning. At Luminati, we are committed to providing schools with quality, customisable display systems that add value to their educational environments.
1. What role does Luminati play in school refurbishments and fitouts?
Luminati is a leading manufacturer of innovative display and POS solutions. While we don't directly perform the physical refurbishment and fitouts, our expertise lies in creating custom display solutions that can enhance the functionality and aesthetics of your educational setting. We provide signage, display cases, brochure holders, and bespoke design solutions that can aid in navigation, showcasing achievements, or information distribution in the refurbished areas.
2. Can Luminati's solutions be customised according to our school's specific needs and branding?
Absolutely. We pride ourselves on delivering bespoke solutions tailored to our client's exact needs. We can work closely with your team to ensure the colours, styles, and functionality of our display products align with your school's branding and the intended purposes.
3. What materials do you use in your products? Are they safe for school environments?
We use a wide range of high-quality materials, including acrylic, aluminium, and sustainable wood. All our materials are durable, easy to clean, and compliant with safety regulations, making them ideal for school environments.
4. Do you provide installation services for your products?
While Luminati excels at manufacturing, we don't generally provide full installation services for our products. We do, however, provide detailed instructions to assist your chosen local contractors with the installation process. The exception to this is our digital screens. For these, we offer a comprehensive service that includes a site visit and professional fitting.
5. How long does it typically take to design, manufacture, and deliver customised displays?
The timeline can vary depending on the complexity and volume of the products. Once we understand your specific needs, we can provide a more accurate estimated timeframe.
6. What measures do you take to ensure the durability and longevity of your products?
Our products undergo rigorous quality checks to ensure they are durable and fit for purpose. We use robust materials and employ expert craftsmanship to ensure our products stand the test of time.
Contact us today to learn more about our innovative solutions and how we can support your school in creating an inspiring and effective learning environment.